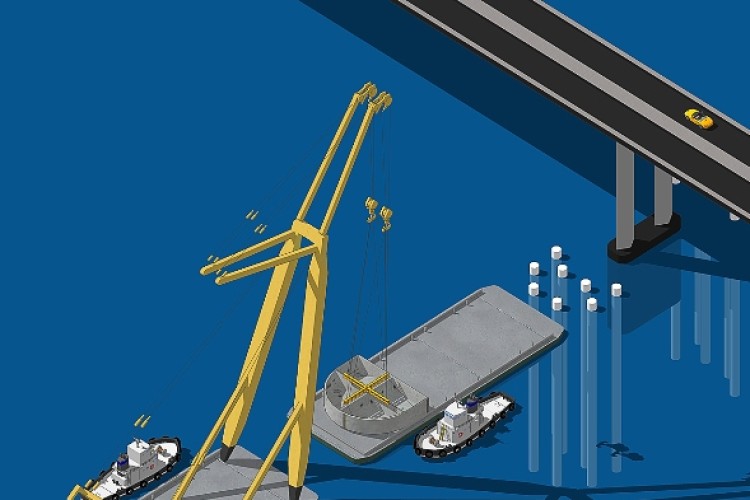 The project has been commissioned by Tay Road Bridge Joint Board and designed by Jacobs Engineering to protect the piers from the impact of a collision by a ship,
The works begin this month (October 2011) and are scheduled to take 18 months to complete.
During its 45 year life the bridge has been hit three times by shipping, each time causing superficial damage. A full on impact could result in a long term bridge closure which has been calculated as likely to cost the local economy up to £680m.
VolkerStevin Marine has already completed the ground investigation works for the project and has been involved during the final design stages. The second stage of works that have been awarded will comprise of the installation of steel tubular driven piles from a large floating crane barge and the installation of scour protection to the riverbed in the area of the pier protection works.

Fabrication and installation of precast concrete shell units weighing between 250 and 300 tonnes each will then form the soffit and outer perimeter of the pier protection structures. These will be placed onto the piled foundations using a heavylift barge and will be connected together structurally using in-situ concrete.
The works will be carried out from floating marine plant, with the navigation channel remaining open throughout.  The road bridge will also remain open to traffic and pedestrians throughout both phases of the project.
VolkerStevin Marine project manager Danny Kruit said: "We are currently working on the design for the temporary works, which involves all support structures required for the construction sequences, the formwork and hoisting frames for the precast concrete shell units. In parallel we are developing the detailed work methods and the selection of marine equipment for the works.  This is an exciting project to be involved with and will benefit the local economy in the long term."
Tay Road Bridge Joint Board engineer Fergus Wilson said: "This is a major construction project which when completed will protect the most vulnerable bridge piers from any potential impact from shipping travelling to and from Perth."
Got a story? Email news@theconstructionindex.co.uk