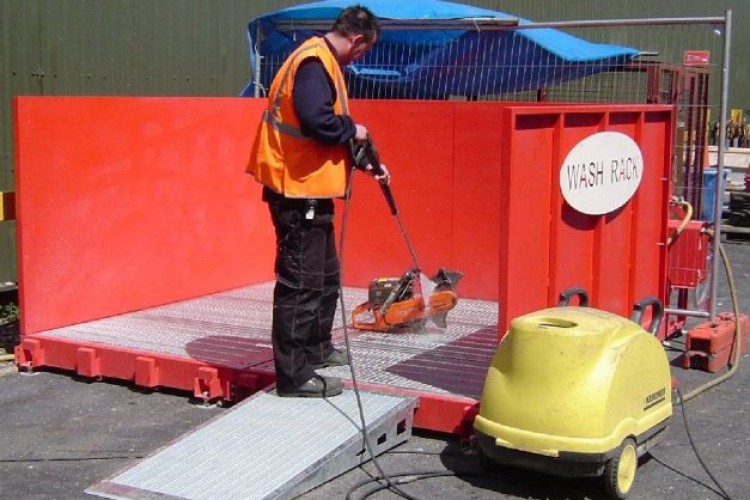 The Wash Rack is a new development from DF Ecology and is a self-contained washing system that catches and recycles washing water and protects the ground from contamination.
With hose pipe bans in force across much of the country, the system minimises water use and helps Speedy meet its sustainability targets. The Wash Rack operates from recycled water and so there is no need to apply for a discharge licence. DF Ecology has estimated that using a Wash Rack can save as much as £200 per month from a user's water bill
Dirty equipment is placed or driven onto on the wash pad for cleaning. The wash pad has a diamond patterned tread, with a grit surface for grip.  To aid the safe disposal of environmentally risky material, the Wash Rack is fitted with a series of separation tanks that isolate diesel, petrol, oils, grease and other chemicals, making these hazardous contaminates ready for proper disposal.


The Wash Rack can be installed above ground as a semi-permanent installation and its 2m- high walls will help contain spray. The complete unit will support plant and equipment up to 1200kg in weight.
DF Ecology is a brand name used for environmental products developed and manufactured by Italian lighting tower producer TowerLight Srl, which is represented in the UK by its Milton Keynes-based subsidiary TowerLight UK.
Paul Hay, from TowerLight (UK), said: "Speedy undertook some extensive trialling with the Wash Rack before deciding to make these purchases. Their conclusion was that the Wash Rack combines genuine environmental qualities with functionality. The Wash Rack is a more cost effective way to overcome the problems that our customers face when cleaning plant and we are delighted that Speedy have recognised the features and benefits of the Wash Rack system."
Got a story? Email news@theconstructionindex.co.uk