The 721F's Tier 4 interim diesel engine with selective catalytic reduction (SCR) technology optimises horsepower and torque output while consuming less fuel and producing lower emissions than previous models.
Don Bradfield, recycling manager with WSR Recycling, reports that without compromising on performance or productivity, the new 721F is expected to save thousands of pounds in fuel costs compared with the machine it replaces.
"We've been keeping detailed fuel consumption records for all our machines for the past 18 months," said Mr Bradfield. "Already we've noticed significant savings with the Case 721F over the other shovels we are using. The Case machine uses only 10 litres per hour…Given the hours that this machine will do (we double-shift it seven days a week) that adds up to a considerable saving over the year."
Mr Bradfield estimates that the saving could amount to as much as £6,000 per year.
WSR bought its first Case, an 821E, in January 2011 adding a second machine six months later, a new 721F with attachments that include a quick hitch, 4m3, grab bucket and silage forks.

WSR uses its wheel loaders to stockpile and handle the 112,000 tonnes of waste that it recycles every year. The company receives sorts and processes all kinds of material including timber, metals, plastics, household waste, demolition waste and industrial waste of which more than 85% is recycled for further use.
The machines work long shifts in dusty conditions and one of the reasons WSR was drawn to the Case models was their rear-engined configuration,  which it reckons gives improved weight distribution and puts the cooling system behind the cab. 
"Normally, you've got a twin radiator with a reverse fan, but here we've got a design that's like a cube – so you've got the air coming in from the front, back and from the top and the bottom," said Mr Bradfield. "That keeps the engine cool, especially in the environment we're working in, where there's a lot of dust. We've had no overheating problems."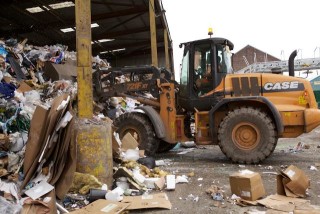 Got a story? Email news@theconstructionindex.co.uk