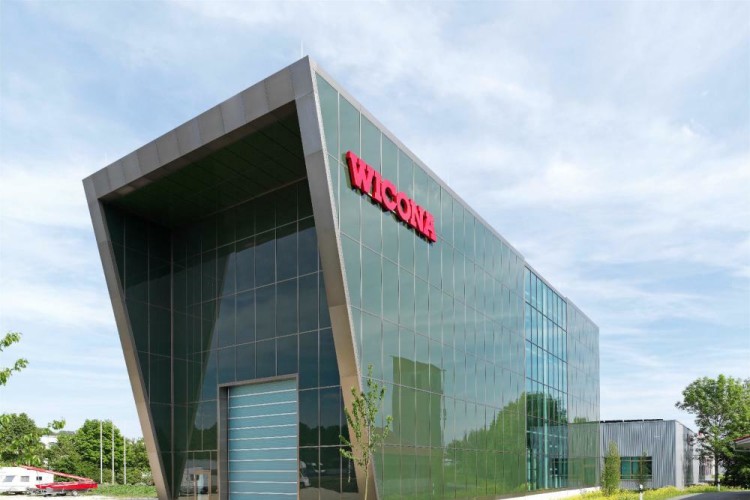 The €3.5m (£3m) scheme at Ulm in Germany provides in-house testing facilities for new products and project-specific façade solutions, which can then be independently certified to the latest European standards.
Roof-mounted photovoltaic panels generate power for heating, lighting and operating the entire building, making it one of Europe's first energy-positive production buildings. 
Daily energy monitoring has shown that the building has generated enough energy to be self-sufficient and to deliver a significant level of electricity into the national grid.  Its energy performance, power generation and consumption levels can be monitored online at www.zeb-bellenberg.com.
A key factor in helping to reduce the energy consumption of the building was the choice of façade, which is highly glazed to allow most of the product testing to be carried out without the need for artificial lighting.


Other energy-efficient features of the new test centre include the use of heat pumps and a closed water circuit to minimise water consumption for the large volumes required for façade tests.
Bob Welsh, general Manager for Wicona in the UK, said: "This building, which showcases a Wicona façade, is designed to be highly sustainable as part of our ongoing commitment to minimising impact on the environment. The demand for façade solutions for zero energy and energy-positive building projects will continue to increase as a result of more stringent Building Regulations and the drive to further reduce carbon emissions – so this is a fantastic example of that in practice and what we can achieve with our own products and facilities."        
The in-house testing procedures and equipment for the building were developed by Wicona in conjunction with IFT Rosenheim (Institute of Window Technology), an independent accreditor. Facilities include two façade test rigs allowing samples up to 10m by 10m to be rigorously tested under a full range of weather performance and safety conditions. There is also a testing rig for combinations of windows, doors and fixed light glazing with frame sizes of up to 3.6m by 2.9m and a fitting rig to carry out performance tests on doors and windows up to 4m high, and their fittings and accessories.
Got a story? Email news@theconstructionindex.co.uk