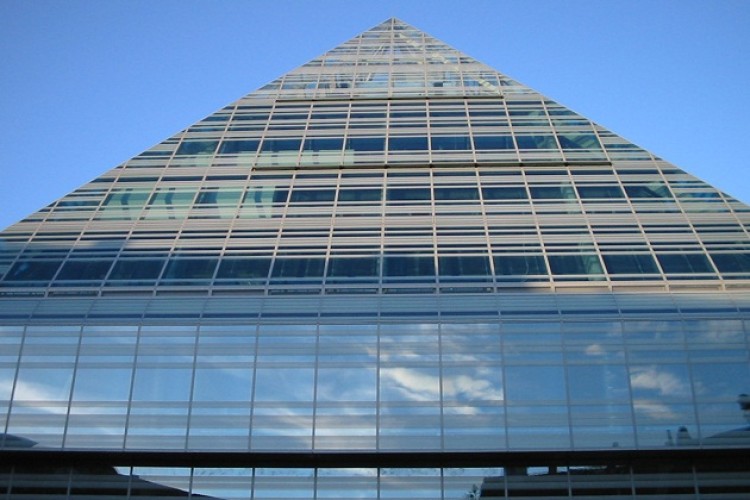 Developed in Germany, this provides a highly efficient solution for glazed roofs which has been used extensively internationally on a wide range of technically challenging projects.
The aluminium system, which can also be specified for vertical glazing applications, will achieve large roof spans and complex shapes such as domes, facets and pyramids on challenging and high specification architectural schemes. 
Whilst still being simple to fabricate and install, saving time on site, the Wicona roof glazing option has been designed to provide highly efficient drainage – whether the requirement is for sloped glazing or more complex 3D glass roof constructions.  It features penetrating transoms so the mullions and transoms overlap, allowing effective drainage on three levels, and avoiding pooling which can result in water ingress. 
The Wictec 50 system has been engineered to create large unsupported spans, and is sufficiently robust to meet specific project requirements for glazed roofs such as wind and snow loads.  It is a dry glazed system for water tightness without the need for sealants, and the Wictec 50 FP option has a fire rating to 30 minutes.
Other options for the system include structural glazing for the roof construction to give the appearance of uninterrupted spans of glass, and integrated flush pressure plates which are less visible for further aesthetic appeal.

One of the first contractors in the UK to use the Wictec 50 roof glazing system was Miller Construction for the new £53m Hartlepool College of Further Education which is nearing completion.
Commenting on the roof glazing, Bobby Simpson, Façade and Cladding Inspector at Miller Construction, said, "The Wicona roof glazing is well designed with effective drainage, and is a dry system so it is not affected by poor weather conditions during installation – a bonus for UK installation."
 "We used the system for the Hartlepool project, and have been pleased with the results. It came together very well on site, was user friendly and simple to install – all key considerations for our project teams.  The installation phase went well, and the system has achieved an impressive faceted roof design that provides a dramatic top to a central atrium as well as some large areas of sloped glazing."
With more than two decades of experience in complex and bespoke aluminium façades and 10 years' on-site experience in the UK, Wicona offers a range of technically advanced façade systems which now includes unitised and stick curtain walling, structural and roof glazing, highly insulated window systems and heavy duty doors.
Wicona is also the first façade specialist to offer a complete turnkey service for the building envelope.  From design concepts to fabrication, installation, testing and handover, Wicona and its partners will manage the full façade project, ensuring a seamless approach and complete peace of mind for architects, contractors and developers.
Got a story? Email news@theconstructionindex.co.uk