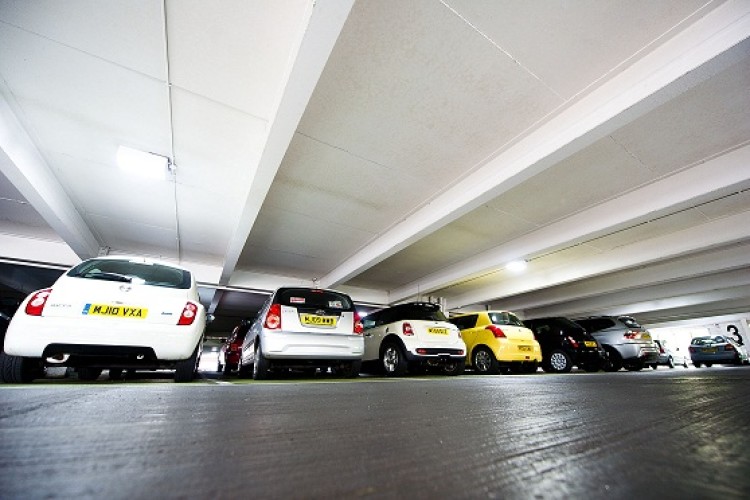 This work has been carried out as part of the council's borough wide Carbon Management Programme, which has delivered energy efficiencies of more than £200,000 over the last five years in council buildings.
The new light fittings now installed at Water Street Multi Storey Car Park use 45% less energy than the pre-existing system.  Also with the use of light sensor control they will save the council more than 50% on their energy bills.
At current operational times they will also save 35 tonnes of Co2 per annum.
At the same time, the light levels and light uniformity within the multi-storey car park have been improved which will enhance customer experience and security at the site.
The project was managed by the councils partnering consultant Norfolk Property Services (NPS) Wigan. 
The use of LED technology as an alternative light source was carefully considered and a feasibility of the LED lighting product required for this project was determined and included in the tender. 
Following competitive tender local electrical contractors Electra Connect were appointed for installation with the LED lighting product specified being provided by MHA Lighting, based in Atherton. 
MHA provided a powerful solution to replace the existing 230 (70 watt) sodium fittings (84 watt with ballast) with their award winning energy efficient LB30 fitting, which is just 45 watts inclusive of ballast.
These fittings are designed and constructed to operate for 60,000 hours maintenance free (seven years at 24 hours a day) saving the council a further £1,065 per annum in annual maintenance costs.
At current car park operational times payback period for this installation is just less than five years.
Wigan Council's Energy Officer Barry Foster said: "Illuminating Water Street Car Park in a cost effective, energy efficient way has been particularly difficult given the way it is constructed and its original lighting layout. 
"Initially we set ourselves a target to reduce the car parks energy use by 50% while improving overall lighting levels. 

"The good news is that since project works completion we are achieving our energy reduction target with savings on-going.  We are also delighted with the improved light levels and uniformity within the car park."
He added: "To know that this installation is not only the most cost effective and to the highest quality, an added bonus is that these world-class technology LED light fittings are assembled here in the Borough of Wigan, creating skills and employment for local people"
The Leader of Wigan Council Lord Peter Smith added: "I am delighted that we have worked with MHA Lighting, a leading local high tech company, to light the Water Street Car Park.
"We are all winners. We get the benefit of fuel efficiency and we support a great local business."
Wigan Council's Carbon and Energy Manager Janet Ackary said: ''This initiative is one of a number of efficiency projects that we are delivering across the councils diverse building stock, including in offices, supported living units, market halls and schools.
"Car parks pose a particular challenge as, unlike in other buildings where the emphasis is to switch off lights, the design of a multi storey car park means that artificial lighting is required throughout opening hours.
"Improving the efficiency of lighting such as this by up to 50% is therefore a brilliant result.''
Councillor Ged Bretherton, Portfolio Holder for Efficiency, added: "This project is particularly impressive as it delivers a dual efficiency impact, by saving on both electricity running costs as well as annual maintenance costs.
"By utilising local companies such as NPS, Electra Connect and MHA the council is also supporting local businesses whilst delivering these savings."
Tom Harrison, MHA Lighting MD, said: "We were delighted to have our products specified for Water Street car park and knew we had a solution that could slash energy bills whilst improving light levels. 
"Our patented waveguide technology is able to overcome the conflict of reducing energy while improving light levels and this was key to the Council.
"They needed a solution which met their energy reduction targets but improved light levels and created a sense of well-being for their car park users and we were able to provide it."
Got a story? Email news@theconstructionindex.co.uk