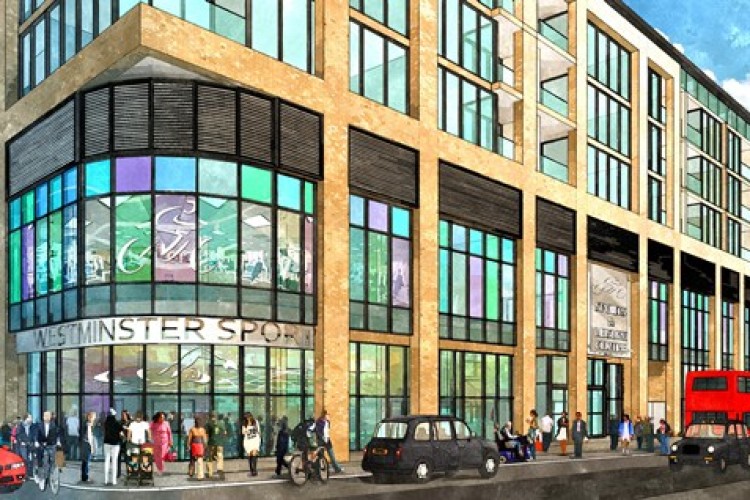 Regen will knock down two existing sports centres, built 120 homes on the two sites, and build a single, larger replacement sports centre for the council. Gross development value of the deal is £60m, funded by Regen's house sale receipts.
The council will also benefit from future uplift in sales values of the homes during construction as well as any surplus land value from both sites.
Willmoitt Dixon says that this is "the type of land arrangement that is set to become more widespread as councils look for innovative funding methods from private sector developer partners to unlock value and create funds for new facilities".
Under the proposal, the Jubilee and Moberly Sports and Leisure centres, which are half a mile apart in the Queen's Park area of London, will be demolished and a new consolidated sports centre built at the Moberly site, which will be larger than the two existing centres combined.
The new leisure facility at Moberly will have a 25m swimming pool, teaching pool, eight court sports hall, health and fitness facility, exercise studios, a health spa plus boxing and gymnastics halls. Also developed by Regen at the Moberly site on Kilburn Lane will be 80 homes, while a smaller community sports facility and a further 40 homes will go on the Jubilee site on Caird Street to fund the new leisure facility. 

Now that contracts have been exchanged between Regen and Westminster, Regen will work towards getting planning approval, which if gained will mean work to build the homes and new sports centre on the Moberly site is targeted to begin in 2013.  Westminster will procure Willmott Dixon as contractor for the leisure centre under the Scape framework.
Regen CEO Andrew Telfer said, "I am delighted to be working with Westminster City Council on this exciting and ground-breaking scheme.  With both current leisure centres in need of modernisation, this solution provides a bigger, state-of-the-art property for the local community offering high quality sporting facilities for many generations to come along with much needed quality new homes.
"This is an excellent example of how Regen is able to work closely with the public sector to creatively fast-track, design, fund and deliver much needed community facilities through intelligent use of land assets in a difficult economic environment.  It is not an exaggeration to say that elements of our model are unique to Regen.  We're ambitious to deliver similar schemes including working with public sector partners who are seeking to replace or modernise ageing public assets such as leisure facilities."
Westminster councillor Steve Summers, deputy cabinet member for sport and the Olympics, said: "Few councils are in the position of being able to build multi-million new sports facilities in the current financial climate. But together with Willmott Dixon, we look forward to working on proposals which will create a £17m sports centre for residents of Queen's Park together with a smaller sports facility at the Jubilee site. This will all be done at absolutely no cost to the taxpayer, so represents incredible value for money."
Got a story? Email news@theconstructionindex.co.uk