This week Mace completed phase one of the project, the installation of three 7m-high by 30m-diameter concrete tanks. The converted oil tanks are now the world's first permanent museum galleries dedicated to performance, live art and film works.
Structural work included the installation of more than 500 CFA piles and caps beneath the tanks to provide the foundations for the new superstructure above
Phase 2 encompasses above-ground works and is already underway with construction of the central core approaching level five.
Mace chairman and CEO Stephen Pycroft said: "The opening of The Tanks is a significant moment for Tate as well as a great achievement for Mace as it marks the successful completion of Phase 1 of the Tate Modern Project. With Phase 2 and the central core construction underway, we are delighted to be, once again, an integral part of what is one of London's most significant construction projects."
Phase 2 will require further intricate construction as a result of the shape and complexity of structural components.  The Mace team has ensured the project stays on-schedule with minimal disruption to the live museum environment.
The Tate Modern project (pictured below) has been designed by Herzog & de Meuron, and will be a 76m-high, 11-storey structure built on land to the rear of the existing gallery, itself housed in the former Bankside power station. The building will provide 21,000 square metres of mixed-use space and incorporate large sections of the existing Tate Modern gallery, increasing the gallery's display space by 70%.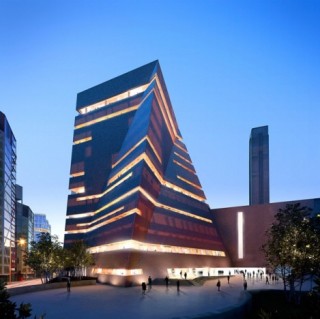 Got a story? Email news@theconstructionindex.co.uk