Doosan say "Both new excavators offer the strength and productivity needed for heavy duty work such as large-scale earthmoving, moving rock, pulling down buildings, secondary breaking, loading haulers and pipeline projects found on quarrying and mining, highway, aggregate, demolition, utility and general construction projects."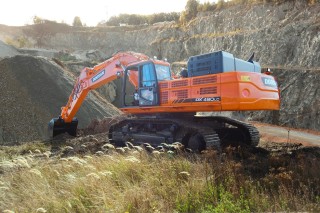 Secifications for Doosan DX490LC-3 crawler excavator
Buckets
1.71-3.60 m3
Operating weight
49.0 t
Digging depth (std front)
7790 mm
Digging reach (std front)
12125 mm
Digging height (std front)
11050 mm
Track width (std)
600 mm
Overall width
3350 mm
Height (std front)
3580 mm
Overall length in travel position (std front)
11750 mm
Tail swing radius
3800 mm
Drawbar pull
38.8 t
Digging force over bucket (ISO)
29.0 t
Digging force over arm (ISO)
20.8 t
Lifting capacity at ground level (over front)
18.98 t at 6.0 m
Travel speed
low range – 3.3 km/h
high range – 5.5 km/h
Engine (SAE J1995, net)
6-cylinder Isuzu AL-6WG1X
Stage IIIB (EGR)
290 kW (389 HP) at 1800 RPM
The new DX490LC-3 and DX530LC-3 excavators come with a whole host of improvements.. Below we look at just a few.
The wider undercarriage on the DX530LC-3 model produces exceptional stability. To power the beast Doosan has chosen the Isuzu AL-6WG1X common rail, variable geometry turbocharge, 6-cylinder diesel engine utilising Exhaust Gas Recirculation (EGR) and diesel particulate filter (DPF) technologies to meet Stage IIIB regulations. The new Isuzu engine provides 16% more power [290 kW (389 HP) at 1800 RPM], a 30% rise in displacement and a massive 41-50% increase in engine torque, compared to the previous DX480LC and DX520LC models.
Supporting this, the new hydraulic pumps and valves increase digging forces by 3-6 %, making both excavator models the best in their class. In the DX490LC-3 model, the lifting capacities at ground level have increased by 5.5% and by up to 9% in the DX530LC-3 excavator. New travel and swing components contribute to an increase in drawbar pull by 15% on both models to 38,800 kg, offering the highest traction in their class. Swing torque in both models has increased by 23% to 15,880 kg.m and there is a 10% increase in the maximum travel speed to 5.8 km/h.
To ensure heavy duty robustness, reinforcing plates have been added on the boom end. The shape of the boom end has been modified and the material for the boom main boss has been changed to cast steel to improve durability. Reinforcement plates on the inner boom and arm have been repositioned to improve structural strength. As a result of the additional reinforcement, the operating weights of the DX490LC-3 and DX530LC-3 excavators have been increased by 1600 and 1300 kg, respectively, compared to the Stage IIIA models.
The heavy duty undercarriage on the new excavators features reinforced track links, track springs, sprockets and bushings. Both narrow (2.99-3.49 m) and wide (3.39-3.90 m) variable undercarriages are available for these models. A unique feature in this class is the extended width of 3.9 m on the wide variable undercarriage, which provides more stability, particularly important when digging or truck loading from the side.
The engine bonnet on the excavator is in three parts to improve serviceability and ease of opening. Filters, valves and batteries are within easy reach for service work. The fuel tank capacity has been increased by 10% allowing the machines to be used for longer and the maintenance intervals for the hydraulic oil have been extended to 5000 hours.
The new engine bonnet design on the excavators maximises air intake. A leading edge design Turbo centrifugal air pre-cleaning system is fitted as standard to eliminate dust. To improve cooling efficiency and reduce noise, the radiator and oil cooler are separate. The excavators have a new oil cooler hydraulic reversing fan, the revolution speed of which is set by the ECU according to the coolant, hydraulic oil and ambient temperature. This reduces wasteful fuel consumption and lowers noise during low speed fan revolution. As a result, the cooling capacity has been increased by 10 to 15%, compared to the previous generation machines.
The e-EPOS electronic control system provides optimum power with improved fuel efficiency in all working operations. Two new operating modes (Power Plus and Lifting) improve controllability and efficiency with reduced fuel consumption. Productivity (m3 extracted/h) has increased in all modes. The ratio of productivity to fuel consumption (l/h) has increased by 9% in the standard (STD) operating mode of both machines.
A feature shared by all new Stage IIIB excavators from Doosan, including the DX490LC-3 and DX530LC-3 models, is the new ROPS and OPG certified cab, which builds on the excellent reputation of the cabs in the previous generation of Doosan excavators. The new cab design offers enhancements in space, seating, visibility, controls, storage and automatic climate management. A new cab suspension system helps to cut vibration by 20% and reduce the noise in the cab to 72 dB(A). Lighting capability has been increased by 100% to facilitate working at night. A side camera is available as an option to optimise safety levels.
In the DX490LC-3 model, there is a new optional 7100 mm long heavy duty boom and a 3350 mm heavy duty arm. Other options for heavy duty applications include dual pump flow providing extra power for high flow attachments. Other new features are: a new two-mode floating boom system; a straight travel pedal; an oil-washed air cleaner; and added protection such as full length track guards.
Brief specifications for Doosan DX530LC-3 crawler excavator
Buckets
1.71-3.60 m3
Operating weight
52.0 t
Digging depth (std front)
6786 mm
Digging reach (std front)
10766 mm
Digging height (std front)
9706 mm
Track width (std)
600 mm
Overall width
3350 mm
Height (std front)
3580 mm
Overall length in travel position (std front)
11750 mm
Tail swing radius
3800 mm
Drawbar pull
38.8 t
Digging force over bucket (ISO)
29.0 t
Digging force over arm (ISO)
23.8 t
Lifting capacity at ground level (over front)
20.70 t at 6.0 m
Travel speed
low range – 3.2 km/h
high range – 5.5 km/h
Engine (SAE J1995, net)
6-cylinder Isuzu AL-6WG1X
Stage IIIB (EGR),
290 kW (389 HP) at 1800 RPM