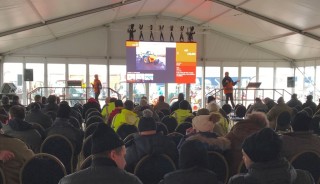 Over a busy couple of days Ritchie Bros Auctioneers sold off more than 1,000 pieces of equipment that A-Plant no longer wanted, including excavators, dumpers, compressors, lifts and more.
The auction took place at the Rockingham Motor Speedway track on 8th and 9th February 2018 and attracted hundreds of visitors, both on site and online. It was initially billed as a one-day event but clearly there was too much stuff to get rid of in just a single day.
Besides many bidders from the UK and Ireland, demand for the A-Plant items came from as far as the United Arab Emirates, Spain, Germany, Romania, Poland, Portugal, Finland, Greece, Slovenia and other countries.
Some of the highlights of the Rockingham auction included a pair of 2014 Manitou MT1840 4x4x4 telescopic forklifts that sold for £41,000 each.
A 2014 JCB 540-170 4x4x4 telehandler went for £40,000.
A 2014 Multihog MH90 4x4 utility tractor sold for £34,000.
A 2006 Hyster H12.00XM 10130kg forklift sold for £27,000.
Two 2013 Kubota U55-4 midi excavators sold for £24,500 each.

A 2006 Genie Z80/60 articulated boom lift fetched £23,500.
Three 2012 JCB 8085 midi excavators sold for £20,000 each.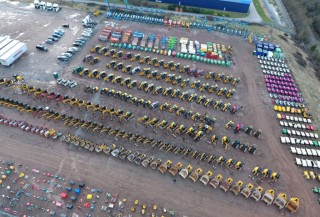 "It was a great auction for us, with a good turn out and plenty of buyers from the UK and overseas," said Wayne Edwards, A-Plant's sales & re-marketing manager. "Ritchie Bros. brought international demand together in one place and helped us achieve solid prices for our units."
Rupert Craven, UK & Ireland sales director for Ritchie Bros, said: "More than anything else, equipment quality is what drives selling prices at an unreserved auction. At the Rockingham auction, A-Plant's construction and groundcare assets sold particularly well."