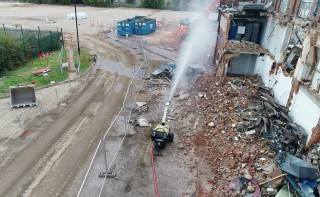 With the decline of print photography, the Kodak plant finally closed in December 2016. It is now being demolished to make way for redevelopment of the 30-acre site.
My previous post from this site focused on the five-tonne CI5000-R shear mounted onto a Hitachi Zaxis 490LCH excavator for grabbing and cutting material.
I now bring news of a very different machine being employed to good effect by Rye Demolition on the site.
To helping protect neighbouring residents as well as the site crew from the inevitable dust pollution, Rye is using a Motofog MF60D dust suppression system with a three-cylinder Yanmar diesel engine and an impressive 55-metre throw.
Rye Demolition manager Steve Hall says: "Many of the old factory structures are of brick and concrete construction and very tall. Finding a dust suppression system which has both the reach, oscillation and manoeuvrability on site was a major factor for us. This is a very fluid site and the MF60D doesn't have a generator to move around, which has been a benefit to us."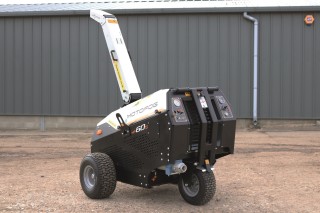 The MF60D might be repositioned three or four times a day depending on the wind direction and the type of work being carried out. The site in Harrow requires significant ground stabilisation work and this creates additional dust problems especially during the summer months. The Motofog has a 90-degree angle of oscillation which puts up a spray curtain to capture and bring to ground dust clouds.
"The MF60D has proved itself to work well and be highly effective with the high reach demolition work, enabling dust to be quickly contained at the source," Steve Hall says. "The ability to move and reposition the MF60D quickly ensures work continues to schedule with the least disruption and diverted manpower."
The Motofog MF60D with its on-board engine weighs in at 435kg, making it easy to move around site by hand, fork lift or chains and to transport on the back of a pick-up.