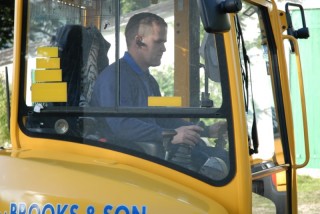 He has just taken delivery of his third Volvo mini excavator, an ECR28, to join his three-year-old EC18C model and an older second-hand Volvo ECR58.
"The EC18C has and continues to be a cracking machine," he says, "but we just needed something that could provide a little extra in terms of reach and capacity yet remain compact for the type of work we are undertaking and opted to add the ECR28 to the fleet and so far it's ticking all of the boxes."
RJ Brooks & Son is a family business, based in Crediton, that began in 1993. It tackles a wide range of construction activities including civil engineering, road construction and ground works.
The new Volvo ECR28 was supplied by Plant & Engineering Services of Beare, near Exeter , the Volvo utility equipment dealer for the southwest of England.