It won the prize ahead of two other shortlisted contenders: Ammann's fully automatic vibratory plate; and a mobile battery mould from Weckenmann Anlagentechnik. (Apparently it's a system for making big precast concrete elements on site.)
Kramer says that there are no other fully electric wheeled loaders on the market in the size class of the 5055e (five tonnes with 0.55 cubic metre bucket capacity). Being both emissions free and quiet, it is marketed at indoor applications.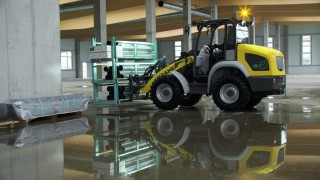 It's costly, Kramer admits, but the initially high overhead cost is soon recouped through lower fuel costs, it says.
Although the usual machine maintenance intervals must be observed, no engine maintenance is needed, so there are time and money savings here too.
One electric motor is installed for the drive system; a second regulates the work hydraulics. The hydraulics of the 5055e are comparable in performance to that of a diesel-powered machine, Kramer says.

It uses the same lead-acid batteries as seen in forklifts. Depending on application and use, one battery charge should be enough for six hours, Kramer says.
Kramer director Karl Friedrich Hauri said: "We are delighted that the new Kramer electric loader has won its first award right upon the market launch. The Bauma innovation award is a prestigious award and recognizes our development work. We are certain that this product will make an important contribution to the resource conservation and efficiency increase of our customers."