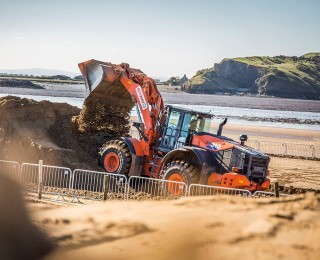 Keyway bought the loader from Hitachi Construction Machinery (UK) in July 2016 to use at its recycling facilities in Durnford, Avonmouth and Gloucester. However, it was diverted to an interesting one-off job last autumn – preparing the beach at Weston-Super-Mare for the annual motorbike race, which is described by the organisers as "the maddest, baddest and biggest event on the UK off-road calendar".
Keyway's Hitachi helped to construct the 15km-long track for HydroGarden Weston Beach Race, as part of a team of loaders, dozers and excavators moving and shaping 200,000 tonnes of sand and creating four-metre high obstacles.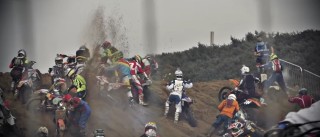 The ZW-6 machine is fitted with a standard 4.3m³ bucket and L5 tyres, which are suitable for quarrying and recycling. At Keyway's recycling facilities, it is used to transport material from a crusher, as well as for stockpiling and loading up to 100 trucks a day. The company crushes, screens and turns demolition waste, namely concrete and residue, into different sizes of aggregates.
In addition to recycling and the supply of aggregates, Keyway also offers earthmoving, demolition, transport and waste removal services. It bought 112 new Hitachi models last year, including mini, medium, short-tail swing and medium excavators, but the ZW310-6 was its first ever Hitachi wheeled loader.

And so far, so good. Eamonn McGurk, founder of the family-run company, says: "The ZW310-6 is reliable and follows in the same pedigree as Hitachi Zaxis excavators. The operator has also been very impressed. It's a vast improvement in terms of fuel economy and cycle times on the previous model supplied by another manufacturer."