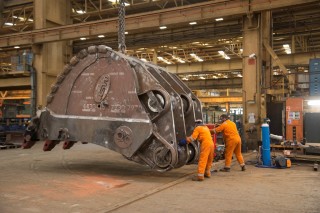 Hi-Spec Manufacturing (HSM), part of the MST Parts Group, manufactures buckets for all sizes of excavators. Operating from a former shipyard in Pallion, Sunderland, on the banks of the River Wear, HSM has supplied bespoke digging and material handling solutions since 1998.
HSM has recently been involved in supplying two of the world's biggest dredging companies with a selection of bespoke buckets, designed to be used on pontoon-based backhoe dredgers with operating weights topping 1,000 tonnes. The smallest of the four buckets has a capacity of 22 m3.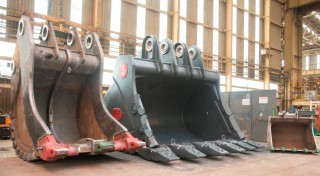 The impressive dimensions of the buckets include leading edge sidewalls with thicknesses of up to 120 mm and floors over 75 mm in depth, with the largest measuring more than five metres in height and five metres wide.

The buckets take 12 weeks to construct, on average. HSM designs each bucket specifically for the excavator that will use it. The buckets are made Weldox and Hardox steels with a cast Esco lip to withstand some of the harshest conditions found in the marine dredging environment. The manufacturing process can see up to four welders working on the buckets at any one time on a round-the-clock basis as the steel needs to be kept at a suitable temperature for welding.