Bradley Demolition owns and operates a range of specialist machines and equipment, including excavators to 60 tonnes and high-reach excavators with a range of attachments including cold cutting sheers and concrete pulverisers.
It also has Brokk 90 and Brokk 45 remote control excavators as well as concrete crushers, skip wagons and dust suppression equipment.
Its latest project is the demolition of an old school in Winsford, Cheshire. A new school building has been built nearby and so the old school is coming down and the foundations excavated. The old building was three stories high in places, and because of its age it had a lot of asbestos to be removed before the full demolition work could begin.
Almost all waste materials were to be separated out for removal or recycling, apart from the arisings. These are being crushed and left on site so that they can be used to create level sports fields in in the place where the old building once stood.
To reduce waste going to landfill and maximise the reclamation, all waste streams that are separated out are reused wherever possible. On this project, non-ferrous materials such as copper, brass, steel and aluminium can be sold on for reuse. Wood and plastics are sent away to recycling plants. Concrete and rock is crushed for reuse.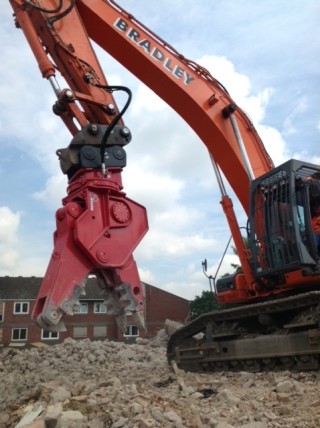 Among the specialist equipment being used on this latest project are a series of demolition grabs and a pulveriser from leading demolition attachment specialist Rotar, supplied by Worsley Plant, the exclusive dealer for Rotar attachments.

Bradley Demolition owner Paul Johnson (that's him, pictured below) bought the Rotar attachments after seeing them at work at the Bauma exhibition in Germany last year. He discussed his needs with Worsley Plant managing director Sean Heron and bought an RSG1000 grab. He has since followed this up with three more grabs – the RG12, RG22 and RG37. His favourite recent addition is a RDP42 pulveriser. The RDP42 is used on a 48-tonne excavator, the larger grab on a 30-tonner and the smaller grabs on a 15-tonne excavator.
"The Rotar pulveriser has a 35% quicker cycle time than anything else on the market," Paul Johnson says. "It has bigger pipes, bigger return valves, bigger booster values and bigger speed valves. For us, this has resulted in 35% less driver's time and 35% less diesel."
He adds: "We couldn't afford not to buy them."