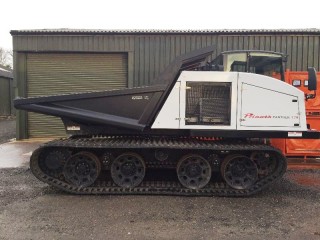 You may have read our news report in December 2019 that Bradleys had taken on the UK dealership of Prinoth Panther rubber tracked dumpers on the back of a demonstration day for customers a week or two before.
Bradleys Construction managing director Martin Bradley saw the Prinoth Panther stand at the Bauma 2019 trade fair in Munich. Having struggled to find a reasonable quality tracked dumper at a sensible hire rate for a wet-weather landscaping job a couple of winters ago, he sensed a gap in the market in the UK.
After Bauma, a follow-up meeting was arranged at PlantWorks, the UK trade show at which Prinoth also exhibited. This led to a series of telephone conference calls and then a trip to the factory in Canada and ultimately the demo day and the dealership.
The first T7R is now in the UK. It is a demonstration machine, available for hire to highlight the efficiency and versatility of the Panther Series, Bradleys says.

The T7R is capable of moving payloads up to 7,000kg at a max speed of 13km/h (8.1mph). Transport width is under 2.5 metres and shipping weight is 10,550kg.
"This machine is incredibly quick and easy to drive. Even with a full load of sandy soil the T7R did not struggle on this incredibly wet field. It's quite difficult to see from the video how saturated this field is but with the amount of rain we have had it's quite difficult to walk across. The Panther hardly leaves a print considering it's carrying a full load in excess of seven tonnes. We are extremely impressed and proud to be working with Prinoth bringing this machine into the UK," the company says.