The latest package includes a Volvo EC250D and an EC160D, both replacing the equivalent C models which were originally delivered at the end of 2008. In addition the company has taken delivery of its first Volvo compact excavator, an 8.8 tonne ECR88 Plus. Once again the after sales support and back up along with good reliability of the products themselves together with a strong influence from the company's machine operators prompted BT Jenkins to opt for Volvo once again.
"We really cannot fault Volvo for their back up, the productivity of their excavator product and good residual values," commented contracts director Russell Lowton. "In addition, it's important our operators have a say in what we invest in and they have certainly appreciated the comfort and performance of the Volvo machines. Ultimately the package on offer gave us no reason to change or go elsewhere," he continued.
At the heart of the 16 and 25 tonne excavators, Stage IIIB compliant Volvo engines operate in conjunction with an advanced mode control system ensuring the maximum possible hydraulic horsepower available is delivered at a constant engine speed under varying load conditions.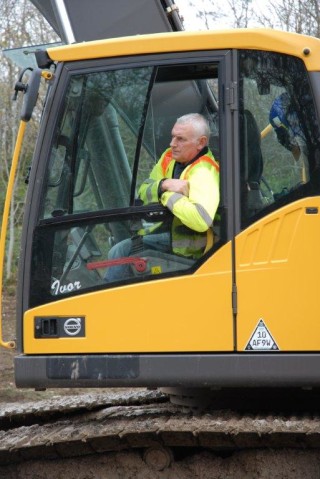 Operators can select the best work mode for the task at hand, ensuring optimum performance and fuel efficiency. Modes include: I-idle, F-fine, G-general, H-heavy or P-power, with the machine automatically setting the appropriate engine speed for the work mode and ECO mode is a new feature that works in G to H (or P) mode. Pump flow is controlled for combined digging and swinging operations to reduce the flow loss through the overload relief valves, while maintaining digging power and maximum swing torque. Eco mode provides better fuel efficiency without loss of performance in most operating conditions. "We have seen a definite improvement in the fuel consumption of the EC160D over the previous C model of between 4 to 5 litres an hour and although we've yet to work the EC250D in a full production job, the signs here are also very encouraging," says Russell.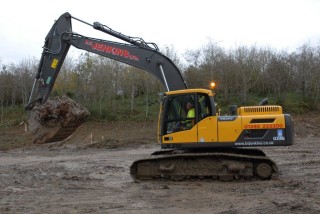 The new 'smart' hydraulics system is designed for high productivity, high digging capacity, easy manoeuvrability and class leading fuel economy. It features improvements that increase total flow and allow cycle times to improve by up to 2.5%. Independent and simultaneous movements of the digging equipment are controlled by an 'automatic sensing work mode'. It can also prioritize flow according to the work being done – e.g. to the boom for faster raising when loading or in deep excavations; to the arm during levelling or swing during large slewing angles. An Attachment Management system can store up to 18 pre-sets and enables hydraulic flow to be adjusted as per the requirements of the attachment in use.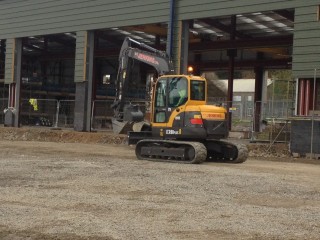 All three machines have been supplied to BT Jenkins with bio degradable oil which has become a standard requirement for the company since many of the contracts being undertaken involve working for the major utility companies in the West Country.

Monitoring of the machine's vital functions and whereabouts is made easy thanks to Volvo's CareTrack telematics system which is standard on these latest additions, and in the opinion of Russell Lowton, is an important innovative feature for managing BT Jenkins' plant fleet. CareTrack provides operational data remotely via the internet, including fuel consumption and idle time, all helping to reduce cost of ownership and maximise utilisation.
BT Jenkins Ltd, established in 1960, is an owner managed company which prides itself as a professional contractor operating through the region of Devon, Cornwall, Somerset and Dorset offering a wide range of earthmoving and plant hire related services.