Valentin Vuillemenot is a well respected and very keen member of top French machinery forum Photostp (Photos d'engins de travaux publics) photos of earthmoving equipment. Like many of us with a passion for plant & machinery, Valentin spends many hours out and about on sites taking photos to share with like minded individuals on the internet.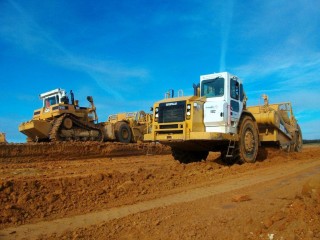 These shots were taken last year on a major business park job which is located in Franche Comte' in Eastern France, and is expected to last for 5 years. Vinci Construction and Climent TP, were the major earthmoving contractors on site and brought in an impressive line up of heavy machinery to tackle the job.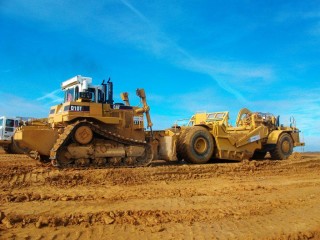 Vinci Construction's fleet of motor scrapers on site consisted of 2 single engined Caterpillar 631E and 3 newer Caterpillar 631G models, which were to be push loaded by a Caterpillar D10T specially adapted with a cushion blade and a Caterpillar D8N which was sporting Vinci's corporate white livery.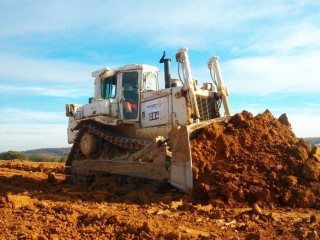 In support of the scrapers and dozers were two Caterpillar motor graders in the shape of a 14H and a 16H, which were deployed to keep haul roads clean and involved in fine trimming works and a Caterpillar 825G "sheepsfoot" compactor was also deployed in the fill areas.
Phase 1 of the Technoland Belfort/Montbeliard development was started in May last year, and major earthworks were expected to be completed by this summer. Phase 1 covers an area of some 45 hectares and it was estimated that some 600000m3 of material would need to be excavated and levelled.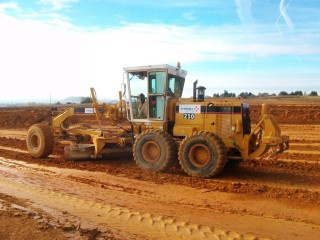 Stars of the show were the Caterpillar 631G scrapers. G series motor scrapers were introduced by Caterpillar in 2000. In June this year Cat launched the newer H series, which so far includes the 621H, 623H and 627H, but for the time being the 631G is still current in its size bracket.

The 631G is powered by Caterpillars C18 Acert engine with a net power output of 462/500hp, it has a heaped bowl capacity of 26m3/34cu yd and can manage a top speed of around 33.2 mph, and with a total operational loaded weight of 184658.97lb that's one heavy piece of kit shifting down the haul road!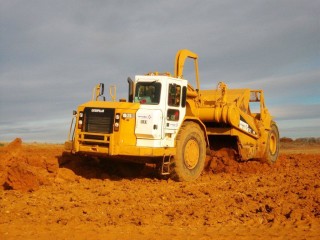 I have always been mesmorised by the awesome power of these ultimate earthmoving machines. I used to watch them as a child on the motorway jobs that my father worked on and was almost hypnotised by the movement of these monsters.
A machine that in favourable weather conditions, can cut and load itself in the excavation, close up its bowl and travel to the discharge point with speed and power, and then level its contents at the other end, quite simply awesome!
It's just a shame that we don't see that many in the UK anymore, but there are still plenty of places in the world where scrapers are still popular and in regular use despite the rise of the excavator/ ADT combination. Australia, USA and Canada are among some of the top users of motor scrapers as well as many areas in Central Europe.
In the meantime I look forward to getting my chance to get up close and personal with these earthmoving greats soon, so lookout for my report here on the Digger Blog.
A big thank you to Valentin Vuillemenot for sharing his superb scraper photos with the Digger Blog.