Ok, so it wasn't quite a David Attenborough moment looking for big game out on the Serengeti, but the Cat's in question are a pride of new E Series excavators, which have been snapped at rest in the shade of some trees.
These four Caterpillar E Series machines are owned by Cloet Gebr nv, who are a groundwork and contracting company based in Pittem, Belgium and feature 2 x 324E L models, including one with the popular European triple articulated boom, which were purchased in April this year, and the latest arrivals to the fleet a 323E L and a 320E LRR (Reduced Radius) machine.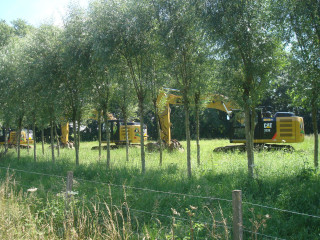 All these machines were supplied by the main Caterpillar dealer for France and Belgium, Bergerat Monnoyeur.
If you are out and about and spot anything interesting, don't forget to send them into us here at the Digger Blog.