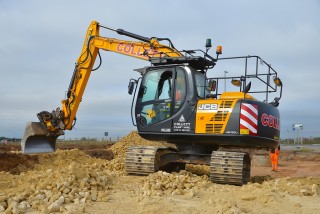 Richard Collett took advantage of the JCB offer in 2015 and now, at the age of 32, already runs a fleet of eight machines – all JCBs, naturally.
In March this year Collett Plant Hire was incorporated as a private limited company
Richard's latest purchases are four tracked excavators: a JS220, a JZ140, a JS145 and a JS130. The latter two machines are fitted with Engcon tiltrotators. That's the JS130 pictured above.
These new arrivals join two JCB 3CX backhoe loaders, a JCB VMT260-120 tandem vibratory roller and an 8018 mini excavator.
He offers all the machines for hire with or without operators across the East Midlands and has already secured work from leading contractors in the region as well as Nottinghamshire County Council and Oxford Archaeology.

"I originally chose JCB for the phenomenal package of support they put together to enable me to get started," Richard says, " - and the quality British manufacture of the machines themselves. Everything since has reinforced that decision. The performance is excellent and new JCB equipment is always popular with customers and operators on site. "
He continues: "The JS220 has been a fantastic purchase. It's a brilliant piece of kit which is easy to operate and the control for precision work is excellent. I've also been very impressed with the fuel economy and the service from my dealer TC Harrison JCB is first class. I'm now extremely excited to get to work with the other new excavators. They are perfect carrier machines for the tiltrotators which help bring even greater versatility to the services I can offer customers.
"JCB Livelink is an added bonus to help with running the business efficiently. It gives great insight into the fuel usage, peace of mind about the machines' whereabouts and reliability and enables me to accurately estimate jobs when tendering."
He concludes: "I put the successful expansion of Collett Plant Hire down to hard work, a genuine effort to maximise my network and a high performance, fuel-efficient JCB fleet that is all under two-years-old."