This accident took place in an undisclosed location somewhere in Western Australia, and involved a Terex Franna AT20 "pick & carry" crane. The operator has clearly miss-judged his clearance whilst travelling underneath an overhead gantry, with inevitable results.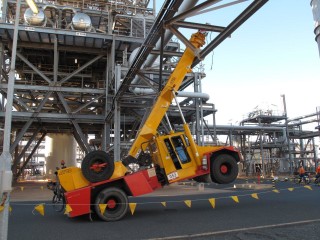 What makes this incident even more shocking is that the cranes hook and block has become detached from the severed wire rope and has dropped back towards the operators cab smashing the front windscreen, luckily for the operator, it dropped onto the passenger seat side of the cab in this instance.
These Franna pick and carry style cranes are rarely seen in the UK, with possibly only a handful making it into our crane market. They were originally launched in 1980 by Dave Francis, who had developed a prototype model using truck components from his base in Brisbane, Australia. However the business was acquired by Terex in 1999.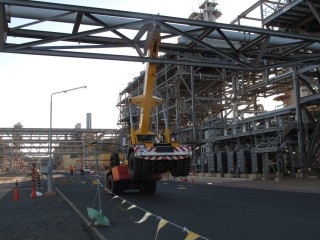 Often described as the ultimate "taxi" crane, due to their speed, manoeuvrability and all round versatility, these articulated Franna cranes are a regular sight in Australia, working on construction sites, plant workshops, and for heavy plant maintenance in the massive opencast mines. Terex Franna has even developed a special dragline maintenance version of the cranes, which was done in conjunction with the Australian Coal Industry, specifically for working on replacing bucket teeth, ropes, pins, wheel motors and other associated tasks.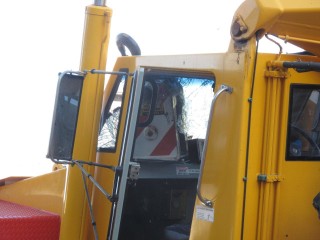 These cranes offer very high road speeds, which enable them to get to and from the jobsites quickly, and because the articulated frame requires no out riggers, the machine can be in place and ready to lift almost immediately. In the case of our friend above maybe he was trying to get to the next job just that bit too fast!