Operator Thomas Rostad lost much of his right hand in an accident, contractor KIME Maskinentreprenor Kare Isaksen AS and company owner Morten Willumsen, were both keen to assist Thomas return to work, so carried out a custom rebuild to meet his individual requirements.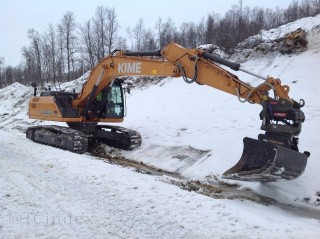 KIME AS has a strong working relationship with Case dealer Dagenborg, having purchased 15 Case machines, including CX290B, CX300C and CX250C excavators. Dagenborg spent many hours fine-tuning the CX250C to allow the excavator to operate smoothly through a single joystick when Thomas is driving, or at the touch of the monitor, to operate with the conventional two joystick layout for other drivers.
When talking about the modified CX250C, Thomas said "It's so easy to control. If fact, it was harder to learn how to write with my left hand!"

To meet this need the machine is also supplied with a rototilt attachment, that functions through buttons on the left hand servo lever, allowing fine shaping and grading works to be carried out. All C Series Case excavators use the Case Intelligent Hydraulic System, that ensures the most efficient use of the engine and hydraulic system, to boost productivity and increase control for the operator.