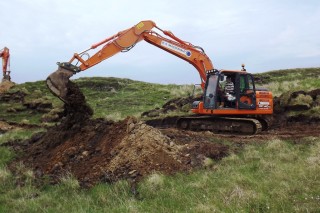 Among the equipment deployed was this new Doosan DX140LC-3 excavator, supplied by Scotia Plant.
The new 14 tonner joins several other Doosan excavators that DA MacDonald has bought recently, including DX140LC and DX225LC models.
Managing director Donald MacDonald is a fan of the Korean machines. He says: "They tick all the boxes, combining good durability with excellent operator comfort and fuel efficiency. There is a really good workstation for the operator in the cab and they make a very good value for money investment."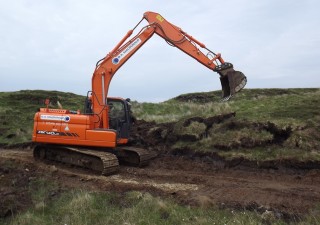 The hydro scheme has involved building a dam across the Abhainn na Cuile River at Kintarbert, using more than 300 tonnes of concrete, and connecting this to the power house via a 2.1km-long, 1200mm-diameter pipe. Part of the trench for the pipe was dug with a Doosan DX340LC excavator, also owned by DA MacDonald Contractors, which is based at Lochgilphead in mid Argyll.
Water is transferred via the pipe to the power house where it operates a turbine to create power for the national grid, after which the water is returned to the river.
When it arrived on site, the new Doosan DX140LC-3 excavator was first used to dig the trench for the supply cable carrying electrical power from the power house to the national grid. The excavator is also being used for landscaping work around the power house.