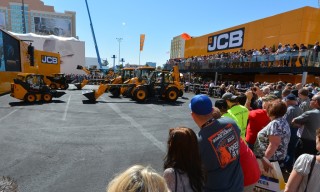 Every hour of every day demon fiddlers scrape their fiddles and the diggers dance up a storm, drawing crowds in their thousands.
It's a sure fire hit every time.
Or if we want to be more correct, and I think we should, an array of backhoe loaders, telescopic handlers and skid steer loaders perform synchronised manoeuvres to the accompaniment of an accomplished string quartet.
Among the new product highlights on the JCB stand at the show are a new generation of midi excavators, the 85Z-1, the 86C-1 and the 67C-1, which are manufactured at JCB's Compact Products factory in Cheadle, Staffordshire.

The video below has been posted on Youtube by Chris Maginnis of awesomeearthmovers.com