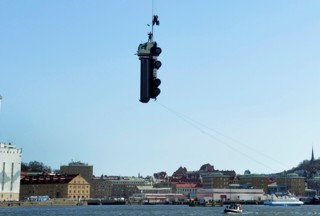 He spent nearly two hours standing on the front panel of an FMX construction truck that had been hoisted more than 70 feet above the water in Gothenburg harbour for the shooting of a promotional film. That's him there in the photo above, and below looking rather nervous before his ascent.
"I have to admit I had butterflies in my stomach and I certainly wondered more than once what I'd let myself in for," he says. "I'm no mountain-climber and I don't like heights, but I'd promised to do the stunt, so I couldn't very well back out.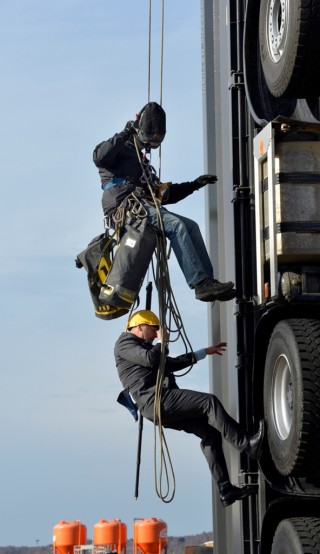 "Of course filming is a time-consuming process and there were many retakes. It was fairly cold – about 8 degrees above zero – and the wind was blowing about 25 mph, so my hands got pretty cold after a while. But it all went very well and, as safety was paramount, I was never really afraid."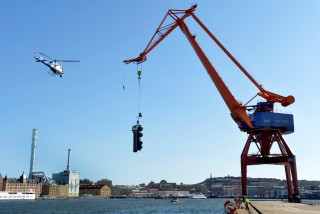 Nilsson says there was a seriious purpose behind the stunt: "The idea behind the film – called The Hook – is that we wanted to show that the truck's front towing hook is dimensioned to handle far greater stresses than those to which it is normally subjected. It's all about spotlighting the strength and quality of our construction trucks. And you can't do that more clearly than by hoisting the 15-tonne truck up into the air via its own towing hook."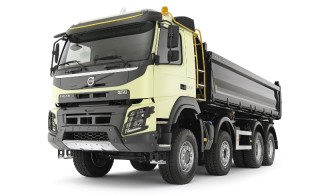 Film director Filip Nilsson adds: "The difficulty is to shoot the entire film in one take from a helicopter. I'm really impressed by Claes Nilsson, who stayed cool and focused throughout the two hours he was hanging in the air. I tried it myself, but just for 15 minutes, and it was pretty scary I can tell you."
The finished film can be seen here:
This is not the first time Volvo Trucks has used stunts to promote their trucks. Check this one out from last year to promote the long-haul FH truck.