This is one photo from a series that have been doing the rounds on the internet machinery forum scene for a while now. It depicts the end result of a massive collision between a 25 ton class John Deere hydraulic excavator which was being transported on a low loader (low boy to our North American friends) and a railway bridge in Lloyd Minister, Alberta.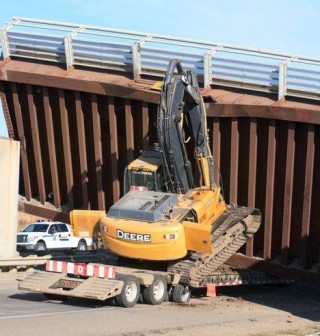 One can only imagine the driver of the truck must of mis-judged his clearance height, but I would think he was also on a one way trip to the local job centre after this event, with the stricken excavator heading for the local digger scrap yard!

The Digger Blog thank's Ross for sharing this photo with us, and don't forget, if you have anything you would like to see on the pages of the blog, why not drop us a line at the usual email address.