That is its celebratory logo, above.
The company was set up by John Clay at the back end of 1990 and began trading in 1991.
John's background was in sales of construction equipment, first with Priestman Brothers of Hull, then as area sales manager with Ruston Bucyrus, then as excavator sales manager for JCB. His next two jobs moved into the specialist area of US-built trenching equipment, initially for Vermeer UK, and then for the UK importer of Trencor Jetco machines. It was in this last job that, through an expertise that he was developing in spares back-up, customers began to ask him about parts for another breed of machine that was rapidly gaining popularity – the mini excavator.
His son Marcus recalls: "At this time a single rubber track for a 1.5-tonne mini excavator, bought from the OEM dealer, would likely cost you around £300 + VAT. That's each track and yes, we know you can get a very high quality Camso track for well under £200 + VAT these days – a fact which, in part (in the UK) is down to one firm."
For this reason, Digbits initially catered for the growing UK mini excavator and chain trencher market. But it developed as a specialist in spare parts and attachments for all types of excavators, up to 80 tonnes operating weight.
Son Marcus Clay was brought in early on. He says he was hijacked part-way through studying for a mechanical engineering degree at what was then Manchester Polytechnic to join the start-up. The offer of free board and lodgings plus a company van sealed the deal and Marcus joined full time after final exams for his HND.
In 1993, the company became a partnership – father and son sharing the risk jointly and severally – and traded as such until 2003 when it incorporated, still under the same 50:50 ownership.
1996 was a key year. This was the year it moved across the Cannock industrial estate from unit 5, shown above (nice car, by the way), to unit 10, below, to double the size of the premises.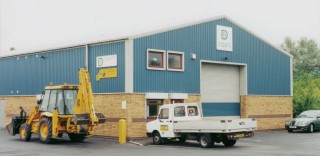 Perhaps more significantly, in the same year Digbits began dealing with Solideal rubber tracks (now Camso).

"Beginning dealing with Solideal rubber tracks was a key decision, a long-term bet," Marcus says. "Solideal, since taken over by Canadian-based global business Camoplast, now re-branded as Camso, were clearly trying to do something other than simply make 'track-shaped objects' – something now borne out by the firm's OEM supply deals."

Digbits moved again in 2003 to larger premises, the current HQ in Rugeley, shown above. In 2005 it established its own in-house fabrication capability, investing in Mazak CNC machine tools in 2010, but not before weathering a mighty tough recession between times.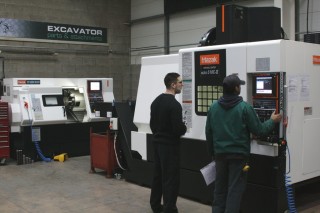 "Of all the changes to the business, the establishment of the in-house manufacturing facility known as Digbits Engineering has proved to be the most transformational," Marcus Clay reckons. "The firm had been plagued with supply problems due to subcontractors who either lacked capacity to keep up with demand or whose businesses were insufficiently funded to stay the course. Both of Digbits' directors were, by qualification, mechanical engineers, but neither had actually run engineering or manufacturing business and when a key supplier got into trouble in 2005, a very swift decision was taken to set up shop and attempt to recruit some of the team that had become redundant."
The credit crunch that followed the global financial crisis was a tough period for the business. Natural reduction of the workforce – retirement and job changes – plus flexible working meant there was only one redundancy. The effect on both suppliers and customers at this time was severe and the business witness first-hand how badly many SMEs were treated by the big banks, Marcus says. Digbits however, managed to weather the storm and has seen sustained growth since 2010, when it began re-investing in the business with the CNC machines.
The firm now has a turnover measured in millions and 19 full time employees, several of whom have been there for more than 10 years and one who has done the full 25-year stretch, with no time off for good behaviour.
"In the long run, Digbits firmly believe that the only route to success is through looking after both customers and the work force and that, furthermore, the latter reinforces the former," says Marcus.