Since I moved back down to my late father's roots in the West Country in 1998, I have tried on a number of occasions to join Champion Groundworks as an operator, but only managing to reach the application form stage. However this coming week I will finally be joining this illustrious company as a subcontract operator. Following a telephone conversation with managing director Fred Champion, I am delighted to announce that I am to be entrusted with the company's latest acquisition, a Case CX210C, which is the very first C Series machine to be delivered in the South West by our local Case dealership M&M Plant Sales.
Champion Groundworks was established in 1983 and is often described as the premier groundwork's company in Cornwall. The company is involved in many major developments across Devon and Cornwall, which includes roads and sewers infrastructure, student accommodation, hospitals, major housing developments and industrial buildings.
I am looking forward to the new challenge, and getting to grips with the new C Series Case, which I will report about over the coming weeks here on the Digger Blog.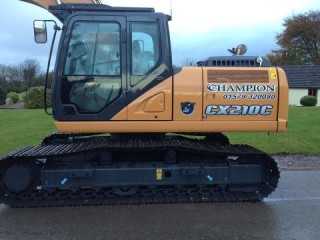 Such is the success of the Digger Blog, it is becoming harder and harder to balance the day job with my blog activities. However, I am reluctant to give up the operating due to the fact that the manufacturers and readers alike enjoy the fact that I am still out here working on the machines in the "real world" on a daily basis. Next year is looking like it is going to be a manic one, with Bauma in Munich to attend in April and the inaugural PlantWorx show in Stoneleigh, Warwickshire, in May for starters. It's at times like this that I need an understanding and flexible boss. On the plus side the Digger Blog gives anyone I work for massive publicity, and a chance to evaluate many of the machines I get offered by the manufacturers for test reports.

I look forward to working with Champion Groundworks from next week and bringing a flavour of the action to the pages of the Digger Blog over the coming months.
Thanks go to Luke Harris of M&M Plant Sales for the photos used in this post.