The Digger blogs' reputation was further enhanced last week when we were invited to attend our first VIP tour of JCB's impressive Rocester based factory.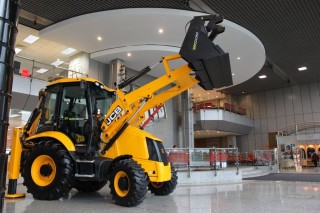 Our morning started with a visit to the company's own on site cinema where we were shown a version of this exciting promotional video.
We were then taken on our tour of the backhoe loader production line, where we saw the latest 3CX and 4CX Eco models being manufactured.
Every machine is assigned a parts trolley that will remain with the main superstructure during its journey through the manufacturing process. These trolleys contain all the different components that a particular customer has specified to be fitted to their machine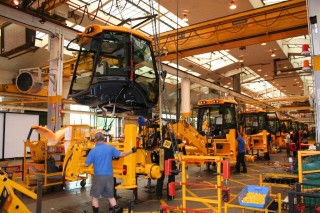 Once again it was very interesting to see the sheet metal being cut using the latest laser cutting systems and also to see how little wastage of steel there is at the end of the cutting process.
As in most manufacturing facilities these days, robot welding machines are used extensively, with manual welding being kept to a minimum to ensure a consistent weld quality.
One of the most impressive sights of the day was when a 3CX was lifted by overhead crane and spun 90 degrees onto the next section of the production line, to facilitate the fitting of the backhoe components. Sadly photos were not permitted in the factory so I can't show you that here.
Once the backhoe is fitted, the machines are given a check over, where any small components that were missed during the manufacturing process are fitted whilst any paintwork that needs touching up is also done. The machines then move on to the hot test area where they are run and worked for a specified period of time to ensure there are no leaks etc.
Afterwards we went onto the Loadall production line where most of the manufacturing processes mentioned above are employed as well.

We then moved onto the new JCB heavy products factory which was a £40 million investment by the company. A JCB spokesman said "The new plant has taken quality standards to new heights and given us the capability to produce 8,000 excavators a year".
This venue was of particular interest to me as I have been operating 360 degree excavators for well over 25 years now, and it's no secret that they are my favourite machines. I am also currently operating a 2009 model JS145 machine for a well known big JCB customer in the South West of England.
The 450,000 sq ft plant is split into two main parts, as assembly area and a large fabrication area. It is manned by 48 highly skilled teams manufacturing a range of 25 tracked and wheeled excavators from seven to 46 tonnes.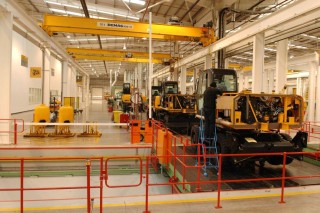 Part of JCB's £40 million investment has been in new machining centres which put JCB in direct control of component quality. The new machining centres are also able to self-position and 'find' components to maximise machining accuracy, giving consistent quality to fabrications.
In addition, the company has invested in brand new paint booths with a six-stage painting process which offers customers the ultimate and most durable paint finish - ensuring the machine looks new for longer, enhancing its resale value for customers.
New measures to ensure hydraulic cleanliness are also a key hallmark of the new factory with the introduction of 'clean rooms' for the assembly of all core hydraulic components to prevent contamination. There is also a 'clean room' for the building of a component kit for specific machine specifications.
This JCB JS160LC "Groundworker" which is fitted with an Engcon tiltrotator is part of the demonstration fleet in the arena.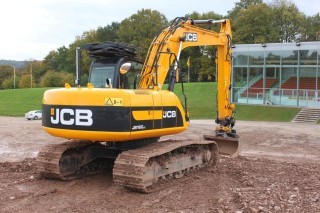 The Digger blogs day at JCB was rounded off with a visit to the "JCB Arena" to take a close look at the 3CX and 4CX Backhoe loaders and to have some time in the seat on the 4CX. Look out for my report on this in an upcoming blog post.