The third biennial Plantworx exhibition takes place 6th to 8th June and the Bruntingthorpe Proving Ground in Lutterworth, Leicestershire.
There will be even more to see this time than there was in 2015, the last time it was held, with 140,000 square metres of exhibition space.
The UK's largest 'working' construction event has 386 exhibitors committed to the show and of these more than 160 will be exhibiting at the event for the very first time. Over the course of the show more than 15,000 visitors are expected to attend the show and visitor pre-registration is up by 25% based on 2015 figures during the same period.
The Construction Index has published a special 60-page Plantworx supplement that you will be able to pick up at the event (or you can read it online by clicking here).
Here are some edited highlights of what you might like to look out for if you are going to Plantworx 2017.
Axpan (Stand D24)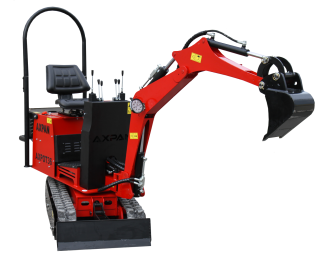 French manufacturer Axpan, a new name on the mini-plant scene, is exhibiting two new models from its Ax Pro range.
The Ax36 Pro is a 360o micro-mini excavator powered by a 7kW Kohler four-stroke petrol engine.
The Ax Pro Loader is a multi-purpose platform that can be fitted with a range of different attachments.
The Ax Pro range is aimed at professionals, private users and the hire market. Axpan says its machines offer a good budget alternative for self-employed builders, landscapers and DIY users. It is currently looking for UK dealers.
Con Mech Engineers (Stand J46)
A well-known manufacturer of ground-engaging tools, Con Mech Engineers is using Plantworx as the launch-pad for its new Blademaster wear parts replacement kits.
Each kit includes all the edges, blades, base plates and fixings needed to refurbish many of the most popular buckets on the UK market, says the company, and offers a "one-stop" replacement and refurb option for Caterpillar and Volvo loaders and Caterpillar and Komatsu dozers.
The Blademaster range includes dozer, loader and grader edges, as well as dozer end, grader end and overlay end parts, spade edges, side cutters, heel plates, segments, hot-cupped end bits and scraper edges.
Dawson Construction Plant (Stand H4)
Dawson is displaying a range of specialist equipment for piling applications at Plantworx. A variety of pile handling, installation and capping equipment is on show, including representative examples of the company's excavator mounted vibrators, impact hammers, auger drills and piling rigs.
Dawson is also featuring its range of popular remote release shackles with safe working loads from 3.5 tonnes to 100 tonnes.
GAP Group (Stand G36)
Fast-growing hire company GAP is displaying a wide variety of equipment from its fleet of small plant.
Among the products on show is the Brendon Super Silent pressure washer, a Silent Night Inverter, fitted to a 12' Eco welfare unit, a Weingold glass and material lift (pictured) and a thee-tonne Kubota KX27-4 excavator.
GAP is also exhibiting a selection of tools from well-known manufacturers including Hilti, Stihl and Wacker Neuson.
Staff from GAP's eight divisions are on hand to discuss the company's equipment and services, which also include access, lifting equipment, non-mechanical plant and survey instruments.
Indespension (Stand D45)
Visitors to the Indespension stand will be able to inspect examples of the firm's specialist trailers for small plant. Among the products on display is the Digadoc Ultra which is made in two versions for transporting mini-excavators in the 1.5 tonne to 2.7 tonne size range. The Digadoc Ultra employs Indespension's strapless cowling system which the company claims offers a level of reliability that webbing straps cannot.
Also on display is the new Alumax trailer. This unit, with an unladen weight of just 580kg, can carry machines weighing up to almost three tonnes.
ITS Trac (Stand G8)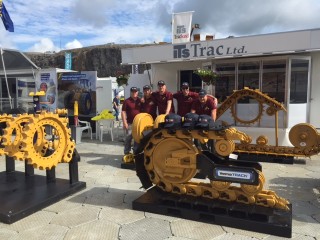 ITS Trac will be showing undercarriage and wear parts from the various European manufacturers and suppliers that it represents in the UK, including ITM, Vema Track, V/part and Metalogenia. Its experienced team will also be out in force.
Kubota (Stand D63)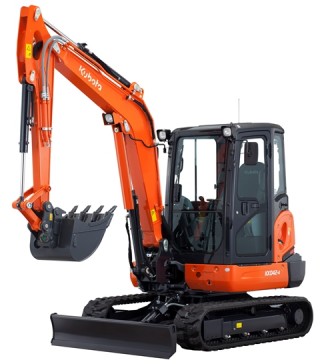 The new KX042-4 mini excavator takes centre stage on the Kubota stand at Platnworx.
The company believes that the four-tonne machine is "the most environmentally friendly" excavator in its class, with a diesel particulate filter ensuring clean exhaust, an Eco Plus mode to reduce fuel consumption and an electronically-controlled common-rail system to ensure optimal combustion.
Other features of the new machine include AUX oil flow with proportional flow control, auto idling, auto-shift and float position which all help maximise power and versatility.
Also on display is Kubota's recently launched KX080-4a, an improved version of its popular eight-tonne machine, and the 2.5-tonne KX027-4 which was launched earlier this year.
Kubota is also exhibiting a selection of its recently-announced R series wheeled loaders. All models in the range feature full-suspension seats, multi-function operating levers and tilt steering for maximum operator comfort.
Machines from Kubota's groundcare range, as well as some new additions to the company's engine range, are also featuring at Plantworx this year.
Probst (Stand F47)
A specialist in materials handling attachments, Probst is showcasing its RVD concrete pipe lifter at this year's Plantworx.
Designed to eliminate the use of slings or chains, the RVD device provides a safe method of lifting pipes from the delivery lorry and lowering them to the ground.
Also on show is the TM tracked vacuum laying device which Probst says is ideal for laying stretches of kerbstones.
Joining these product on the stand is a selection of mechanical block grabs for lifting kerbs and packs of blocks or bricks.
Rhinox (Stand G45)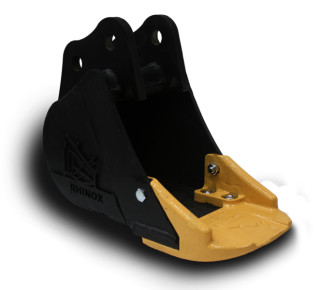 Rhinox is featuring its Uni-tusk X1 bucket blade system, winner in the Safety category in this year's Plantworx Innovation Awards.
Rhinox developed the new bucket after noting that many utilities contractors now insist that excavator buckets are used without teeth to reduce the risk of cable strikes.
While removing the hardened teeth does dramatically reduce the incidence of cable-strike, the now toothless bucket is subject to excessive wear.
To overcome the danger of cable-strike and at the same time protect the bucket from damage, Rhinox developed the Uni-tusk, a combined tooth and blade system with no sharp edges.
The rounded contours of the Uni-tusk reduces the chance of penetrating underground cables and pipes, but at the same time allows for efficient digging, says Rhinox.
Because the Unit-tusk system fits onto the bucket, it strengthens the corners and locks the lip-plate to the side plate of the bucket. To resist wear, the Uni-tusk is made from cast steel with a Brinell hardness of 550HB (very hard).
The Uni-tusk X1 has already been approved by several utility companies, says Rhinox, and is currently available for 1.5 tonne and 3.0 tonne excavators. A version for larger (5-8 tonne) machines will soon be available too, says Rhinox.
Robustrack (Stand B31)
Robustrack, which distributes a range of Italian-made attachments for excavators and mini-diggers, is introducing a new range of concrete mixing buckets at Plantworx. Centre-stage is taken by a new modular unloading system. These devices can be fitted to excavators, skid-steers, wheeled loaders and telehandlers and are easy to use, says Robustrack.
The bucket is first loaded with sand, just like a normal bucket, and the user then adds cement and water. The operator then starts mixing and then pours the concrete using the hydraulically-operated bottom discharge gate. A rubber delivery tube of up to 4.5m in length can be fitted to channel the liquid concrete into places unreachable with normal concrete mixers, says the company.
Other products in the Robustrack range include flail mower heads, mulchers, augers, pile drivers and extension arms.
Safety Lifting Gear (Stand D17a)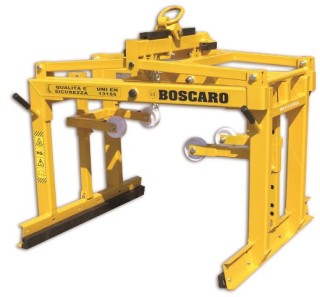 As the name suggests, Safety Lifting Gear is a specialist in sturdy and reliable site lifting, materials handling, load restraint and height safety equipment to the hire industry. It also offers specialist re-hire, repair, inspection and testing services.
At Plantworx, Safety Lifting Gear is featuring products from a number of brands, including Boscaro site equipment, Easy-Rig aluminium gantries, Euro Slings webbing and round slings, Elephant chain blocks and lever hoists, G-Force fall protection, Action Ram hydraulic pumps, Load Surfer material lifts and Strap-On load restraint and lashings.
A range of Guil compact lifting towers are also displayed.
TEK Seating (Stand G9)
One of the UK's largest independent distributors of vehicle seating for the OEM and after-market, TEK is exhibiting a number of products from leading manufacturers including KAB, Grammer, Isringhausen, Milsco and United Seats. Among these is the KAB 600 series which features a wide platform for improved stability. The 61/K4 and K1 models are high and medium back mechanical suspension seats while the 65/K1 and K4 are high and medium air suspension designs.
Other seats on show include the Actimo and Maximo ranges from Grammer. These heavy-duty seats are especially good at isolating the driver from vibration and shock during a long day in the cab.
The Actimo Evolution P premium comfort seat features low frequency air suspension, an automatic positioning system, adjustable shock absorber, electronic weight adjustment and pneumatic lumbar support.
Whites (Stand J43)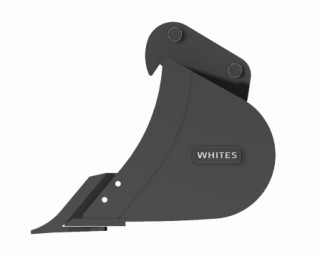 Whites Material Handling is exhibiting its LPX range of buckets, designed for use with quick-couplers.
A reduced bucket pin to tooth dimension of the LPX bucket (pictured) gives the machine a greater breakout force and reduces common contact issues that are encountered with machines fitted with quick couplers.
The UK-made LPX range is suitable for machines from 1.5 tonnes to 9.0 tonnes and have centralised carrying hooks making them safer to carry around site.
Bolt-on teeth are fitted as standard to the 1.5 tonne to 6.0 tonne models. HD tip-and-pin style teeth are fitted to the larger models.
Alongside these buckets, Whites is exhibiting a range of attachments including the Totalock 2 hydraulic coupler and a new coupler control system that safeguards the device in the event of machine failure.
A-Plant (Stand G13)
A-Plant, the UK's largest plant hire company, is flying the flag at Plantworks with a representative selection of the small equipment it hires to its estimated 35,000 customers in the construction, industrial, infrastructure and events sectors.
The A-Plant display includes a number of generators, excavators, tower lights, traffic lights, track-ways, powered access platforms and site welfare units.
Cautrac (Stand G12)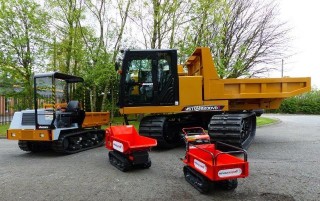 Cautrac is the UK distributor for the Japanese-built Morooka and Yamaguchi range of tracked dumpers.
The company is displaying the full range of machines from both suppliers, ranging in payload from 350kg to 11 tonnes. The largest of these machines features 360o rotation.
Also on the Cautrac stand is a track-mounted access platform with a 14m working height and a variety of tyre track systems for skid-steers and solid pneumatic flat-proof tyre for telescopic handlers.
Cautrac is also a distributor of Wacker Neuson products for the Greater Manchester and East Anglia regions. Examples from the range are also on display.
Pladdet (Stand D48)
A newcomer to Plantworx, Pladdet is showing a range of sorting grabs, designed and manufactured in the Netherlands and made from Hardox and Weldox steel alloys.
The products incorporate Parker rotating motors and induction-hardened pins to produce high rotational and closing forces.
Pladdet grabs are designed specifically for use in the demolition and recycling industries.
BSP International Foundations (Stand E50)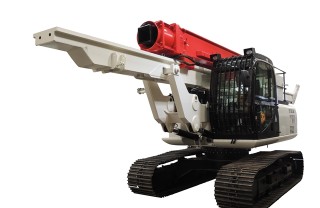 The BSP stand features the company's range of excavator-mounted piling hammers designed with the rail industry in mind. These include the DX piling hammer, designed for driving sheet piles, H-piles and steel tubes.
Also on show is the BH120 hammer, developed for use on a backhoe-loader or 8-tonne excavator boom. This hammer is suitable for small steel or plastic sheet piles and small bearing piles of steel or wood.
BSP is also showing its new JX-8 piling rig (pictured), which is based on a JCB JS200 excavator. This 25-tonne unit stands 12m high when erected and will top-drive 8m-long 250 x 250mm concrete piles or 400mm diameter steel tubes.
Lloyd Engineering (Stand D30)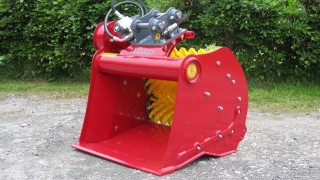 The UK-based manufacturer of excavator-mounted screening equipment is unveiling its Star screening bucket range at Plantworx.
Designed for screening topsoil, waste, turf, roots, compost and street sweepings, the buckets are made in sizes to suit excavators up to 25 tonnes in size.
Also on display is Lloyd's rotary screening buckets and a range of screening buckets for mini-excavators. These include the new Babystar bucket (pictured), which is suitable for machines down to 2.5 tonnes.
Hill Engineering (Stand D59)
The Tefra Tilt Hitch, Tefra Coupler and Titan buckets take centre-stage on the Hill Engineering stand.
The Tilt Hitch is a development of the popular Tefra Coupler and is available for machines ranging in size from three to 20 tonnes. Like the Tefra Coupler, it is designed for minimal maintenance. The Tilt Hitch allows all attachments to be rotated through 180o to offer greater flexibility and ease of operation.
Also on show is the Hill Titan Thumb, which comprises a bucket-cum-grab for handling a range of materials. Suitable for machines up to 20 tonnes, the device can be used like a standard bucket when the "thumb" is retracted.
Strickland Manufacturing (Stand E53)
Visitors to the Strickland stand can get a close-up look at the company's eight-tonne S-Lock coupler.
This twin-locking coupler is the only one currently available that can handle bucket pins from 45mm to 60mm, says Strickland.
Also on show is a selection of Strickland's other attachments; visitors can also find out more about the company's on-site repair and fabrication services.
Bergmann (Stand H2)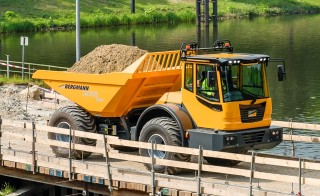 German manufacturer Bergmann is displaying a range of wheeled and tracked dumpers with payloads up to 12 tonnes. The largest of these is the 3012 R-plus, a 12-tonne wheeled model and the company's latest product. Also on show is a 10-tonne 4010 tracked dumper.
Both machines offer excellent driver comfort, says Bergmann, and both have the company's 180o swivelling seat to enable the machine to be driven backwards at high speed.
Mammoth MTS (Stand A4a)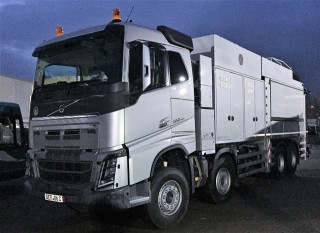 Mammoth is showing the Dino5 Quad-Fan Mega suction excavation system made by German firm MTS. This is the first model of its type in the UK, according to Mammoth.
Mounted on a 650bhp Volvo 8x4 chassis, the Quad-Fan is designed for extreme depth and distance work and is said to be the most powerful vacuum-excavation machine of its type in the world.
Also on show is the Dino5 twin-fan suction excavator mounted on a Volvo FMX Tridem chassis. This is described by Mammoth as the "workhorse" of the MTS range; it has a 12m3 payload capacity and rear steer for optimum manoeuvrability.
Sister company Mammoth Equipment is displaying its own range of Hammerhead trenchless equipment alongside its range of Safe-Dig plastic excavator buckets, suction nozzles and air lances.
Hydrema (Stand G31)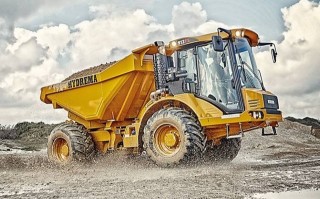 The new 912F articulated dump truck from Hydrema has a front-mounted operator's cab that boasts excellent all-round visibility, boosted by a reversing camera and reversing alarm for maximum safety.
A multi-tip function allows the operator to dump the payload directly behind the machine or anywhere within a range of 90o to the right or left.
The machine also features Hydrema's pivot steering system with anti-roll properties for maximum wheel-to-ground contact. Vertical rear-wheel movement is +/- 450mm.
Trailer Vision (Stand G11b)
Trailer Vision is demonstrating its new radar-based detection systems and is launching a new 360o 'look-down' camera system.
The new camera system, called Omni-Plant, displays the area immediately around the machine in which it is fitted, eliminating blind spots. It is supplied with a waterproof monitor as standard and is reliable and robust. Purchasers can easily install the system themselves; alternatively, Trailer Vision will supply and install.
The system is suitable for all types and sizes of machine and is calibrated individually to each machine.
Tufftruk (Stand F40 F29)
Tufftruk's display focuses on the new Truxta Rigid mini dumper – winner of a Plantworx Innovation award and highly commended in the Safety category. The Truxta Rigid is designed to appeal to professional housebuilders who will appreciate its manoeuvrability on sites where space is limited.
There are two models in the range: the Bendi 300 and the Bendi 450 with skip capacities of 300kg and 450kg respectively. Both 4x4 dumpers have articulated chassis and measure just 850mm in width to provide easy access even in the tightest corners, says Tuftruk. Both models weigh just 200kg and are available in petrol, diesel or battery powered versions.
TDL Equipment (Stand E54)
A range of Chinese-made Sany earthmoving machines are being put through their paces on the TDL Equipment stand.
Barnsley-based TDL has been the official Sany distributor for two years during which time, it says, the manufacturer has demonstrated that it is "committed to providing quality excavators with outstanding levels of reliability".
As well as showing off a selection of excavators, including a recently-launched range of new mini excavators, TDL invites qualified operators to get behind the controls and try the Sany machines for themselves.
The stars of the TDL show include the 13-tonne Sany SY135C and the 22-tonne SY215C.
Avant Tecno (Stand J32 J23)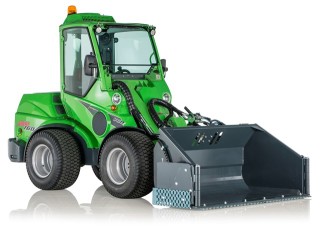 Visitors to the Avant stand can get hands-on experience of the new Optidrive system which is available on the company's 700 Series loaders.
The Optidrive design optimises the hydraulic supply, reducing the number of hydraulic hoses by 20% and hydraulic fittings by 60% and significantly improving performance.
The system minimises heat build-up, reduces engine vibration and makes servicing easier. It also delivers 10% better performance, says the company.
Power losses are reduced by up to 1.5kW, resulting in lower fuel consumption and more efficient operation.
Models ranging from the 200 to the 700 are on display and will be demonstrating their capabilities with a variety of the special attachments that Avant also offers.
Brokk (Stand E48 E9)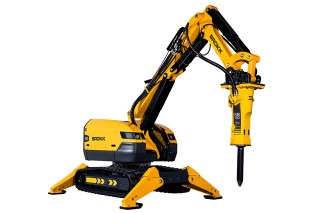 Brokk is returning to Plantworx for the second time with its biggest-ever line-up of radio controlled demolition machines. The main attraction is the Swedish company's latest model, the Brokk 500, featuring the new simplified and robust Smartpower electrical system.
Also on show is a range of hydro-demolition robots manufactured by Aquajet, a company (also based in Sweden) that Brokk acquired last year.
Other equipment appearing on the Brokk stand include a range of hand-held demolition tools from Darda and a selection of electric site dumpers from Irish manufacturer Ecovolve for whom Brokk UK is the official UK dealer.
A&Y (Stand F44 F53)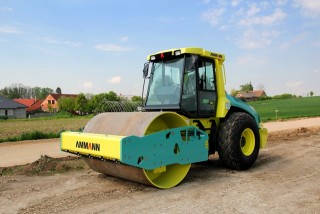 Machines from the Ammann, Yanmar and Cormidi ranges are making an appearance on the stand of importer A&Y.
A variety of Yanmar mini and midi excavators ranging from one tonne to 10 tonnes, are on show. Both zero and semi-zero tailswing models are represented, including the new version of Yanmar's 5-tonne ViO50-6. This machine features an all-new cab and offers better power and stability than its predecessor.
Also appearing is the ViO12, 'micro' excavator introduced to the UK earlier this year. A&Y says that this model is the size of a 1-tonne machine but does the work of a 1.5-tonner.
Several Ammann compactors are also on display. These include the ASC130 roller (pictured), a big 13-tonne single-drum machine, and several of the smaller ARX rollers, including the ARX26 with a 1,200mm-wide drum and the ARX12 which has an 800mm-wide drum.
Three models from the Cormidi range of tracked dumpers complete A&Y's display at Plantworx. Designed for use on all kinds of soft and difficult terrain, the Cormidi machines feature rocking rollers and hydrostatic drive to deliver durability and high performance on the roughest surfaces.
Bucket Warehouse (Stand E43 E40)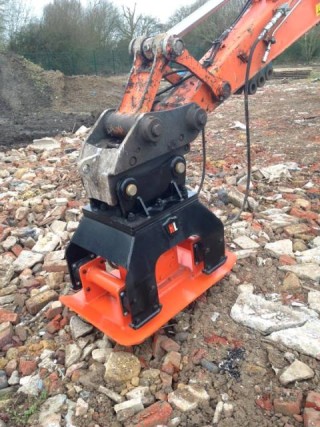 Bucket Warehouse is promoting the new Hardlife range of excavator-mounted hydraulic plate compactors and manual compaction wheels at Plantworx.
These products are designed as an efficient and cost-effective means of compacting flat surfaces, trenches, slopes and embankments and for driving posts and beams into the ground.
The compactor plates are available for excavators ranging in size from one to 16 tonnes and attach easily using standard adapter plates and brackets.
The compaction wheels are also intended for use on excavators, backhoes and skid steers of up to 16 tonnes.
Also appearing on the company's stand is the hydraulic Tiger Tip range of thumb buckets and the Hardlife range of hydraulic rotating selector grapples.
The grapples are available on four sizes for use on machines from four to 22 tonnes and are designed for heavy duty demolition and waste processing use.
Completing the Bucket Warehouse display is a selection of popular special purpose attachments including the Hardlife tree shear, tilting buckets, rakes and rippers.
Cardley Bingham (Stand J6 J18)
Yorkshire manufacturer Cardley Bingham is demonstrating a variety of hydraulic attachments at Plantworx.
The machines displayed include planers, stump grinder, post drivers, brush buckets and micro-trenchers, each designed and manufactured for use with a wide range of carriers including excavators and backhoe loaders.
In the demo area, Cardley is driving and extracting posts with its Versavibe post-driving attachment. This device was designed in consultation with the Environment Agency and delivers 3,500kg of downward force 38 times a second to drive posts into the ground.
The post driver allows a single machine and operator to pick up, position, drive and extract posts quickly and efficiently, says Cardley Bingham.
Case (Stand A6 A7)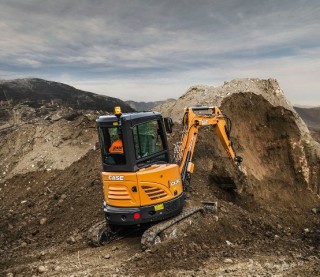 Examples from the new C Series mini excavators, upgraded Stage IV final backhoe loaders and the new G Series wheeled loaders are among the equipment being demonstrated on the Case stand.
The new G Series wheeled loaders are represented by three of the seven models in the range, namely the 721G MH SR, the 821G Z-bar and the 1021G Z-bar.
Powered by EU Stage IV diesel engines (with no diesel particulate filter) the new loaders are promised to deliver good fuel efficiency and 'outstanding' performance. They also have a brand new cab design that Case says is its quietest, most comfortable ever.
The C Series comprises six mini excavators ranging from 1.7 tonnes to 6 tonnes. Three will be on show: the smallest CX18C, the mid-range CX26C (pictured) and the top of the range CX60C.
Joining these machines is the upgraded 690ST backhoe loader, one of three T Series machines in the Case range. Again, a Stage IV final diesel engine features in these new machines.
The company's crawler excavator range is represented by the CX75C and CX80C midi-machines and several of the heavy-duty D Series including the DX130D, CX245D SR and CX290D MH.
Also on show is the 1150M dozer, a 690ST backhoe-loader and a TR270 compact track loader.
Case is also using its appearance at Plantworx to launch the UK qualifying round of the Case Rodeo Challenge. Qualified operators are invited to test their skill and speed to win a place representing the UK at the finals which take place in Paris later in the year.
Doosan Bobcat (Stand K5 K6)
Products from the Bobcat and Doosan Heavy ranges are being put through their paces on Doosan Bobcat's demonstration area, while examples from the Doosan Portable Power product range are on static display.
Among the earthmoving kit on show is the new 21-tonne Stage IV-compliant DX225LC-5 crawler excavator, the 16.5-tonne DX165W-5 short tailswing wheelie (shown above) and the Bobcat 1.7-tonne E17Z zero tailswing mini.
Two of Bobcat's rigid-chassis telehandlers, the T40.180SLP (18m reach) and the T36.120SL (12m reach), are also being demonstrated.
As we have come to expect with new models of earthmoving machinery, the new DX225LC-5 promises high performance, fuel efficiency, reliability and durability as well as a host of features to make owning and operating the machine a pleasure.
According to Doosan, its new six-cylinder Doosan DL06P turbo-charged, water-cooled diesel delivers the sort of power, with high torque at low revs, that other 21-tonne excavators with their 4-cylinder engines cannot match.
The new 16.5-tonne DX165 wheeled excavator is aimed squarely at the highways and utilities market, and is especially suited to working in urban environments where its compact dimensions and reduced tailswing offer an advantage.
For smaller jobs the E17Z mini is a productive machine with a roomy and comfortable operating position with a canopy instead of a fully enclosed cab.
The new telehandler range is appearing here for the first time in the UK. There are 11 machines in the new range with lifting capacities from 2.6 tonnes to 4.1 tonnes and lifting heights from 6m to 18m.
The Doosan Portable Power range includes compressors, generators, light-towers and power tools. At Plantworx, visitors to the company's stand will be able to see the new 7/4TTG compressor which has an on-board 8.5kVA generator.
ECY Haulmark (Stand J37 J38)
Equipment importer ECY Haulmark is demonstrating a range of demolition and recycling attachments on its Plantworx stand. Among these are the latest DSG Series screening buckets made by VTN Europe and designed for the easy separation of stones and soil to produce clean, high quality, reusable materials.
Also on the stand is the Rubblemaster compact tracked impact crusher. ECY says that this machine demolishes the myth that impact crushers are not suitable for high-volume crushing and screening. This one is.
Another draw to the ECY stand is the range of Furukawa hydraulic breakers for excavators from 0.5 tonnes to 100 tonnes. This includes the latest FX series of small breakers and the heavy duty FXJ range.
Visitors can also see the latest LaBounty scrap shears on static display. Meanwhile, ECY is demonstrating a Liebherr 914 excavator fitted with the company's OilQuick system that allows easy changeover of attachments in just 15 seconds.
Engcon (Stand G37 G28)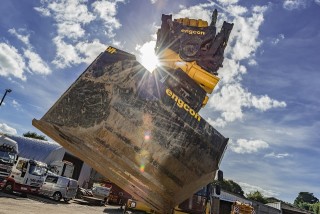 Best-known for its range of tilt-rotators, Engcon aims to show Plantworx visitors how these – and other attachments – can transform an excavator, "making it more efficient, profitable and safe".
On the firm's demonstration stand, a wheeled excavator, sully equipped with a tiltrotator system, will be demonstrating the versatility of the attachment in a wide variety of everyday applications.
As part of its expanding range, Engcon is displaying a new selection of entry-level tiltrotators and quick-hitch systems on static display. These include a brand new range of UK-sized Engcon buckets and the company's new universal quick-hitch control systems.
Engcon is keen also to promote the UK's first National Plant Operators Registration Scheme (NPORS) tiltrotator safety training scheme which now has more than 15 accredited instructors nation-wide.
Hanix Europe (Stand H1 G26)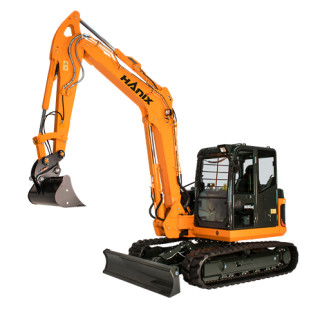 Hanix promises to provide a full range of excavators for visitors to test-drive at Plantworx, including the new N085uj (above), which replaces the popular H75C.
This is the first of a new generation of Hanix 'urban' mini- and midi-excavators. A 2,615cc Kubota V2607 engine provides 43kW of power for this 8.5-tonne machine while delivering "excellent" fuel economy and emissions in line with EU Stage IIIB regulations.
The N085 is offered with a choice of short or long dipper arm, the latter adding 200mm to both maximum dig depth and ground-level reach (4.5m and 7.1m respectively).
Alongside the excavators, two crawler-mounted aerial work platforms are on display. The articulating boom platforms are made in Japan by Hanix Euope's parent company, Nagano Industry, and Hanix will be introducing them to the UK market during the course of this year. On show is the smallest platform in the range, the NUL070R-2, and the newest addition, the NUL13Suj, which tops the range with a maximum platform height of 13m.
Hook Up Solutions (Stand E12)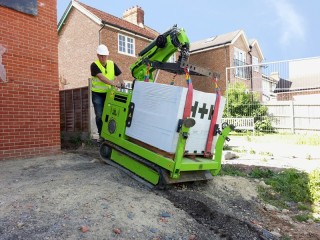 Hook Up launched its Hooka load handling machine at the last Plantworx and says that it went down a storm. It's back again this year.
The Hooka combines the duties of a forklift with that of a spider crane and a tracked dumper and is designed to lift, shift and deliver bulk building materials safely and easily. The pedestrian-operated machine is just 1m wide and is "size-matched" to handle standard pallets and dumpy bags. However, it can also handle irregular loads, such as street furniture, with equal ease.
One of the main features of the Hooka is the patented Load-Lock system which the manufacturer says "completely eliminates" the inherent instability of traditional forklifts. Cleverly, it does this by transforming dangerous suspended payloads into safety ballast for the machine. The low centre of gravity and low ground-bearing pressure rubber tracks gives the machine stability. The track chassis is by Hinowa and power is provided by a Honda V-twin petrol engine.
JCB (Stand B57 B58)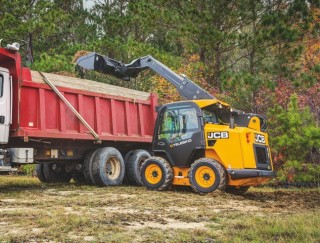 JCB's new Teleskid makes its UK debut at Plantworx alongside last year's innovation, the Hydradig.
Both machines are notable for taking a radical new look at established equipment designs and adding significant improvements.
The Teleskid (pictured), launched earlier this year, combines the side-mounted telescopic boom of a telehandler with the compact, manoeuvrable chassis of a skid-steer loader. The result is a machine that can not only reach 60% further forward and 8% higher than any other skid-steer on the market, but can also dig below the level its chassis to a depth of 1m.
The Hydradig was launched at Bauma in Munich last year. This machine is essentially a new take on the wheeled excavator, with all engine and hydraulic motors located in the lower chassis and a new boom design.
JCB says the Hydradig's performance is greatly enhanced by its low centre of gravity and operator visibility is streets ahead of any other wheeled excavator.
Less revolutionary, but still a significant addition to the JCB range is the new 540-180 HiViz Loadall telehandler, which also makes its first public appearance at Plantworx this year.
JCB says that compared to other machines in its class, this 18m-lift height telehandler offers 10% more forward reach, 50% lower SAE serviceability rating, 50% service cost saving and 20% faster cycle times.
Also featuring on JCB's stand and in the demonstration area is a full line-up of equipment including compact excavators, tracked excavators and site dumpers, as well as compaction equipment and generators.
Meanwhile, JCB Attachments is unveiling a new range of bladed buckets, aimed primarily at contractors working in the utilities sector, and a new range of quick hitch devices with spring-activated safety locks. The design combines high levels of safety with simplicity and low maintenance requirements, says JCB, thanks to the absence of a gravity locking, zero greasing and a three-year warranty.
The new bladed buckets joins JCB's existing toothed bucket range and are designed to help prevent electricity cable strikes and water pipe damage on utilities and streetworks projects. They also help produce tidier flat-bottomed trenches, says the company.
JCB Attachments is also displaying its Professional and Contractor ranges of hydraulic breakers.
LiuGong (Stand A5 A8)
Chinese manufacturer LiuGong is launching its new E Series excavators at Plantworx. These machines are all EU Stage IV compliant and already established in mainland Europe.
The new models comprise the 915E-D, 924E, 928E, 939E and 950E-D machines which are all built to "demolition specification". The 50-tonne 950E (above) is displayed at Plantworx.
In addition to the new range of excavators LiuGong has also introduced a new wheel loader, the 856H. This machine is developed from its predecessor, the 856IV, with improvements made to the operator environment with more ergonomically designed controls, increased visibility and other improvements in the cab
Also on show is the new 877H and a selection of other machines from the LiuGong range.
Mecalac (Stand F52)
Mecalac Construction Equipment UK (formerly Terex GB) is exhibiting a range of earthmoving equipment including its new TLB870 backhoe loader and its TA9SP site dumper.
The TLB870 has a new loader arm design, a new roof canopy and LED lights for better operator visibility. Mecalac's new NWR wheeled excavator is also on display.
The TA9SP site dumper has synchro-shuttle transmission and a swivel skip function as standard, making it ideal for use in tight spaces. Stop/Start control and optional autoshift capability gives the machine an advantage over rival dumpers, says Mecalac.
The French company is also promoting its Capture telematics system, which it developed in partnership with technology company Trakm8. Full ECU integration allows engineers to perform remote diagnostic testing, while site managers can benefit from the system's reporting of fuel consumption, service planning, geo-fencing and plant theft deterrence.
It is also demonstrating its new hazard-detection system that works rather like the parking sensors on a car, to warn of obstacles in the way of the machine.
Worsley Plant (Stand J22 J33)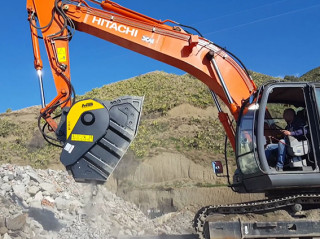 Attachments specialist Worsley Plant is unveiling a new crusher bucket, the BF90.3 Series 4. It comes 15 years after the launch of its first model. Described as "extremely compact and versatile", the new BF90.3 is suitable for all crushing operations, says Worsley Plant, "even the most challenging".
The new model offers better productivity and more power, strength and reliability than its predecessors. A number of options have been introduced to regulate material output and maintenance requirements have been cut by introducing a centralised greasing system.
Other items being demonstrated on the Worsley stand include crushing and screening buckets from Remu and MB, as well as demolition attachments from Rotar and the Lehnhoff fully-automatic quick-coupler.
For more details of Plantworx 2017, see www.plantworx.co.uk