The three day extravaganza attracted over 17,000 visitors this year, an increase of around 1,500 when compared to the 2010 event. Visitors were treated to even more live demonstrations, and a whole raft of new plant and equipment was on display by 459 exhibitors, which was a new Hillhead record for stand space.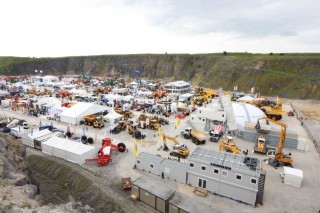 We arrived early and our expectations were high, boosted by the glorious weather that was predicted for the middle day. I was accompanied on the day by an up and coming young operator from the South West, Ryan Stallard who was attending his first ever show. Ryan like myself is a self confessed digger freak, and I have to say it was a delight to see his face when he got his first glimpse of the showground from the famous face edge viewing point. It goes without saying that the star attraction at the show was the massive Cat 6030 mining shovel, and a visit to see the 300 ton monster was our first priority.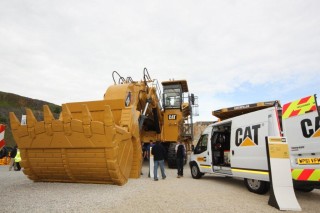 Such is the importance of this giant Cat machine and the deal of which it forms part of, I am going to write an entire blog post dedicated to it, so for now we will carry on with our tour of the showground.
Just around the corner we came across the Marubeni Komatsu stand, where the impressive Komatsu PC490LC-10 excavator was on display. This 270kw/362hp machine is the direct replacement for the previous PC450-8 model and has a maximum operating weight of 48.5 tonnes.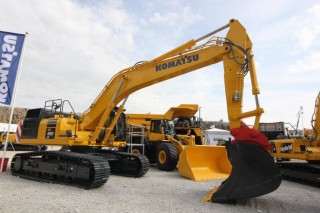 Also on stand was the new HM300-3 articulated dumptruck, which offers a whole host of new features and dynamic new styling of the front end. This machine is the smallest model in Komatsu's ADT range and has a maximum payload capacity of 28.0 tonnes, it is powered by 270kw/332hp Komatsu engine and can attain a top speed of 58.6 km/h. The Komatsu HB215LC "Hybrid" excavator was also displayed in a simulated truck loading pose.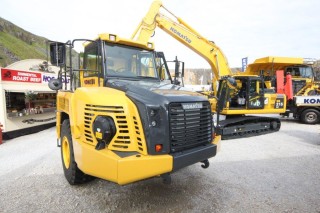 The biggest machine on the Komatsu stand was undoubtably the HD785-7 rigid dumptruck. This machine is currently Komatsu's largest dumptruck and is powered by 895kw/1,200hp Komatsu engine and can haul its maximum payload of 91 tonnes at a speed of 65km/h.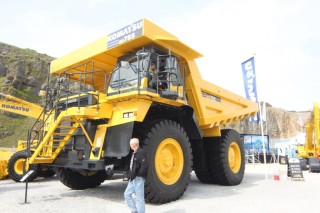 Moving on to the Volvo CEGB stand now, and a machine that immediately caught my eye was not the much expected large machines, but the company's latest reincarnation of the EC140 which has now been upgraded to D Series status. The 13-14 ton excavators are the bread and butter machines of choice on many building and civil engineering sites around the UK, and I have to say, this size range is easily my preferred choice to operate. Anyone can sit on the big machines bulking away all day, but to operate these machines you have to be a good all rounder as an operator.
This new 13-16.3 tonne class EC140DL features Volvo's D4H stage IIIB/Tier 4 interim low emission engine, which offers 84kw/114hp power output, and is said to offer even more power whilst consuming less fuel. The Volvo Care Cab has always been a pleasant place to spend a shift and this latest version is even better. I am looking forward to trying one of these out shortly so look out for my report on it.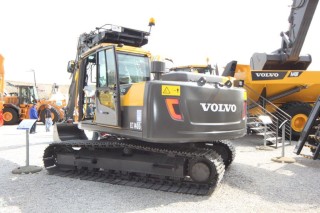 At the other end of the scale was the impressive EC700CL which was displayed loading one of the manufacturers A40F articulated haulers. The EC700CL is currently Volvo's largest excavators weighing in at 69.3 – 71.7 tonnes depending on specification and is powered by a Volvo D16E engine which produces 316kw/430hp.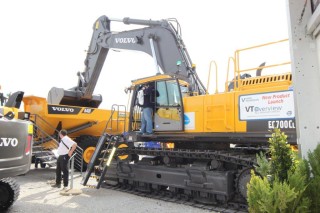 Another new addition to the D Series excavator range is the EC250DL which was displayed, already sign written for delivery to its new owners straight from the showground.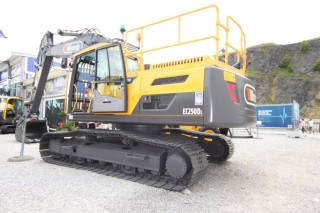 On the Engcon working demo plot this JCB JS130LC was displaying a whole host of attachments from our innovative Swedish friends, including this rotary brush, grabs and buckets. The hydraulic working tools were being picked up using the company's EC-Oil quick hitch system, which features automatic hydraulic coupling, so there is no longer any need for the operator to get out and connect hoses to the work tool, once again saving down time and improving profitability.
I recently made contact through our @TheDiggerBlog Twitter page, with Mr Dave Hawley, who is the managing director of BTE Plant Sales, who are the main Kubota Dealers for the Leicestershire area. Dave very kindly offered to introduce me to the management team at Kubota UK, so whilst I was at Hillhead I took the opportunity to call by the Kubota stand and meet them. I am pleased to report that the Digger Blog is now on their radar and a series of machine test drives and reports on the blog looks very likely.
Kubota has been a long term player on the UK mini excavator scene, and indeed were one of the earliest manufacturers to export mini excavators into our market. I have operated many of them over the years and have always found them to be first class machines with a good quality Japanese feel to them in terms of smooth hydraulics and awesome power from a compact machine. A couple of models from the company's latest Dash-4 range caught my eye on the stand. This very smart looking 5.5 ton class KX57-4 was looking resplendent fitted with an Engcon tiltrotator.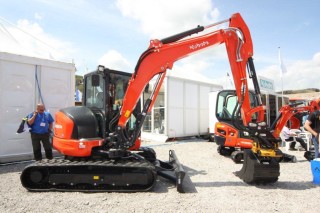 Also displayed on the stand was a full cab version of the popular KX018-4 which was introduced into the range last year. This machine has an operating weight of 1795 kg and was displayed with a flail mower attachment which is becoming an increasingly popular way to trim hedges, scrubland, and grass verges around the country. I myself run a flail mower on my mini excavator and it's amazing just how much one man and a machine can clear in a day!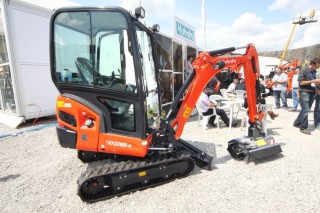 Finally in part one, a cracking rear view of the Caterpillar 777G, this machine is one of a fleet of 19 that will be heading to Hargreaves Surface Mining for use at the Tower Colliery open cast mine site in South Wales where they will be working in unison with the four Cat 6030 machines when they are all installed.
In part two, I will continue my look around the showground.