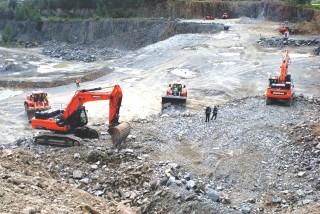 Customers from around Europe were given the opportunity to get hands on with 30 different Doosan machines.
It was the first opportunity to try out Doosan's new Stage V 'dash 7' series medium crawler excavators, such as the 30-tonne DX300LC-7, as well as the DA30-7 articulated dump truck (a 30-tonne ADT), the DX250WMH-5 material handler (25 tonnes) and the DX27z, DX35z, DX63-3 and DX85R-3 Stage V mini-excavators.

Doosan Smart Solutions was also heavily promoted. To meet growing demand for machine guidance systems, Doosan Smart solutions is now offering Leica, Trimble and Xsite Ready Kits for the wheeled and crawler excavators from 14 to 30 tonnes. Doosan Smart Solutions also provides factory-installed options for the increased flexibility offered by Engcon and SVAB/Steelwrist tiltrotator systems for the Doosan excavator range.