Quarry Days offers customers and prospects from across Europe, the Middle East and Africa the opportunity to drive and test any product from the Doosan range, supported by Doosan demonstrators and product specialists. All participants are able to fully try out the machines of their choice under the safest conditions, but in a setting that matches those in real life, including working on hard, rocky surfaces such as granite and basalt or driving in mud and on other difficult terrains.
For the two weeks of the event from 24th June to 5th July, Kámen Zbraslav, a company owning several quarries in the Czech Republic, opened the doors of their quarry at Bělice, to host the Doosan Quarry Days. Many of the visiting customers and prospects also took advantage of the Quarry Days trip to visit the Bobcat factory at Dobris, located close to the quarry at Bělice.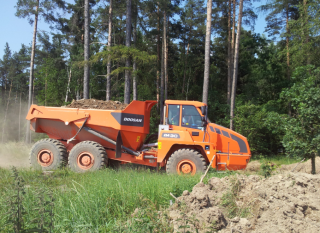 Over 400 customers and prospects from more than 10 countries participated in Doosan Quarry Days. There were nearly 50 Doosan staff present to ensure the fullest support possible for every visitor to the event. An international delegation of journalists also visited the event and, along with the other participants, they tested a wide choice of Doosan machines in real-life settings, encompassing:
3 wheeled excavators, including the 14 t (DX140W-3) and 16 t (DX160W-3) models
10 crawler excavators, including the 14 t (DX140LC-3), 21 t (DX225LC-3), 23 t (DX235LCR), 25 t DX235NLC and DX255LC-3), 30 t (DX300LC-3), 38 t (DX380LC-3) and 50 t (DX490LC-3) models
2 compact excavators, the new 6 t (DX62R-3) and 8 t (DX85R-3) models
5 wheel loaders, the new DL200-3, DL300-3, DL420-3, DL450-3 and DL550-3 models
2 articulated dump trucks, the DA30 and DA40 models
"Because we invite and receive our guests in small groups, we are able to listen carefully to what they are saying and can take note of their remarks, as part of the continuous improvement the services we offer. It is this extra effort we make that is greatly appreciated by both our customers and prospects." said Arnaud Gabarre, Demonstration and Inventory Manager for Doosan EMEA.