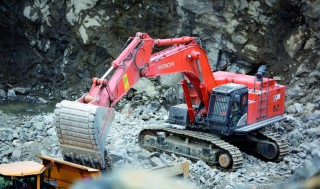 The Pilawa Górna plant can produce up to five million tonnes of aggregates for road and rail construction.
There are some big highway projects eithe rin progress or set to start soon – including the A1, A2 and A4 – that DSS is supplying. It delivers aggregates to customers by rail and road transport within a 60km radius of the site. The quarry and plant are near a railway line and the international E67 road, which is handy.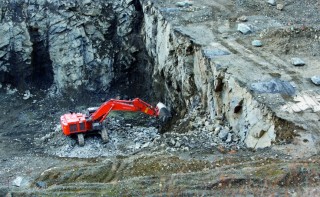 The ZX670LC-5 has been installed by DSS to help reduce costs and increase productivity at its flagship quarry. "This is the first Hitachi that I've worked with," says DSS's Janusz Rydz, who has been employed as a manager since the 40-hectare site opened in 2007,
The ZX670LC-5 loads blasted materials on to articulated dump trucks. Experienced operator Boleslaw Gazda says: "The controls in the Zaxis excavator are ergonomic and user friendly. The seat is perfect and very comfortable. I use the monitor for the rear-view camera and to see the fuel consumption data. Listening to music in the cab also helps me to enjoy my work."

Boleslaw estimates that the ZX670LC-5 excavates and loads approximately 600-700 tonnes of materials per hour, depending on the size of the rocks. He also adjusts the work mode on the machine to suit the load and tends to switch between the ECO and PWR settings accordingly.
The DSS Group (Dolnoślskie Surowce Skalne SA) is Poalnd's largest domestic producer of crushed aggregates for infrastructure projects, apparently. It has a licence to extract amphibolite (a metamorphic rock) and migmatite (a mixture of metamorphic and igneous rock) at this quarry for the next 30 years.