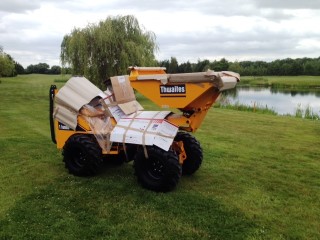 It was on duty at the inaugural Fairfax Plant Hire charity golf day. I was delighted to be invited but sad not to be able to attend. However, I hear it was a roaring success.
The Selby-based firm held the event at The Oaks golf club near York. The main trophy was won by a team from Balfour Beatty Civil Engineering, which pipped Brenbuild and Case CNH.
Mick Kelly from Balfour Beatty also took the nearest the pin trophy, while Darren Brown from Case won the longest drive.
The day was clearly well supported, with competitors from Carillion, Morgan Sindall, J Murphy & Sons, Howard Civil Engineering, Northfield Construction, Kubota and Thwaites amongst others. A long list of suppliers sponsored holes and/or gave generous raffle prizes.
More than £3,000 was raised for local charities.

So why the gift-wrapped dumper? This was for a chipping competition. The cardboard and bubble wrap was to offer some protection. The skip of the Thwaites one-tonner was filled with water and players were invited to pay £5 for five balls. If you chipped into the skip and made a splash, you won £10 back. There were 52 golfers who had a go, and out of the 260 balls chipped only five hit their mark.
I make that a profit of £210 for the dumper (and the charities it was supporting). Not a bad return for a day's work of bone-idle sitting still. Does anyone get a better rate than that for a machine of this size?