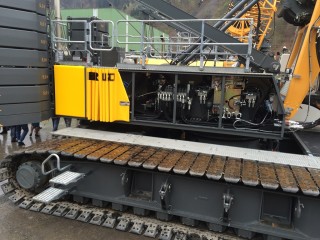 We are all now very familiar with various kinds of plastics replacing metal bodywork – not just on our motor cars but on heavy duty construction machinery as well. But I believe that here is an example of this trend being taken to the next level.
This is a Liebherr LR 1250, a 250-tonne capacity crawler crane, on show at a recent customer day at the Nenzing factory in Austria. The engine cover is a curtain made of truck tarpaulin that simply folds back – or Seitenverkleidung mit LKW-Plane, as the locals say.
I can see that there would be a marginal weight saving over a fibre-reinforced plastic door, which might be beneficial for transporting the machine but only at the – even more marginal – expense of lifting capacity. These must be negligible concerns, however. More pertinent is the simplicity of engine access. A curtain must be much easier to cope with than a wide door that takes space and flaps around in the wind. Liebherr says that the curtain also saves on purchase cost and provides 'large and constant advertising space', although I am not sure that how this latter point makes it any different to a door.

Could this catch on? I can see it having merit for the more delicately treated machinery, like big cranes, but I suspect that diggers and loaders get too much rough treatment on construction sites for tarpaulin to withstand. However, I have been wrong before. And more than just the once. So keep a look out.