Peter Moore has been working as a contractor for over 40 years, during this time Peter had often thought that the role of the conventional dumper could be greatly expanded if it could be fitted with a tool to spread the contents of the skip when emptying it. During a chat with the Digger Blog, Peter explained, "I had spent years mulling over the problem to be honest. Every contractor knows that a man and machine are needed to spread the dumped material, add to this the time spent travelling and the fact that the dumper driver is often idle while the levelling is being carried out, the whole cycle wastes time and money"
"I kept running it through my mind and then one day I had my 'Eureka' moment while I was eating my sandwiches. I packed up for the day, went to the timber yard and bought enough timber to mock-up a prototype." By 3am Peter had the basic design for the NudgeBlade. Since then, he has been improving and refining the design.
The NudgeBlade fitted to Peter's dumper has spread thousands of tons of all sorts of material over the last six months. Peter knows it works, and now, with a patent pending, he is introducing the innovation to the construction industry around the world.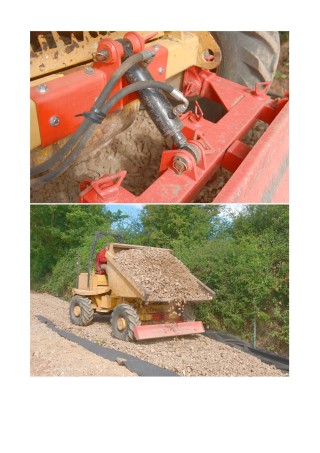 The NudgeBlade can be fitted to dumpers ranging in size from 3 to 6 ton, with potential for larger sizes to come in the future. It is drawing a lot of attention from major plant hire company's and contractors alike. It's very easy to see the benefits this system can offer. I would be a very rich man if I had a pound for every time I have had to track over to sort out the tip area after the dumper drivers had made a mess of it. With the NudgeBlade system, the dumper driver has the ability to level the tip as he goes, which not only makes the dumper more efficient, but also by levelling his work area ahead of him makes it a lot safer for the driver in charge of the dumper.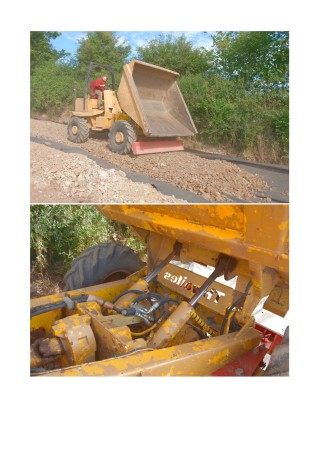 The system is designed to be quick and simple to fit and remove when ever necessary, initial fitting takes around 3-4 hours, after which the blade assembly can be released by the removal of just two pins. Raising and lowering of the blade is performed by using the existing tipping lever which is fitted with a button connected to a switchover valve.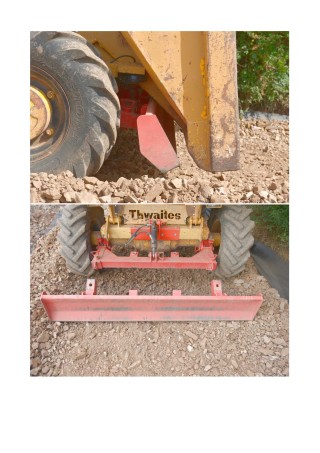 It will be very interesting to see how this idea develops. I think it's clear to see that such a simple concept could become a very useful piece of kit to have around. However it would be important that drivers are given some instruction on the correct use and procedures to gain the full benefit. Here is a short company video, which shows the concepts inventor Peter Moore using the system to full effect.