Here, more than 1,000 miles north of Oslo, locals 'enjoy' six months of perpetual daylight followed by six months of perpetual night.
It's a challenging environment for construction machinery too, with extreme weather and sometimes limited parts availability.
However, local operators of Case Construction Equipment machinery say they are delighted with the performance of their CX C-Series mid-size crawler excavators.
Tom Nordgård has bought a CX75C SR excavator for his landscaping projects in Tromsø. "This midi excavator allows me to control the bucket in a smooth and precise way," he says. "And the hydraulics, together with the rototilt attachment, makes my job much easier."
And Tromsø builder Rune Ulriksen, pictured below, says: "Case midis are problem-free machines and this is what I really need in my job."
Harald Nilssen is a long-standing Case customer – he has been buying its machines since 1984. "I know I can rely on Case equipment and I am also very pleased with the support I receive from the dealer," he says.
Martin Mydland works for a company that installs pipes for telephone and internet cables in the city. He operates a CX75C SR excavator on a daily basis. This is him pictured below. He also loves his machine. "Thanks to a high sitting position and the large windows on both sides, this Case unit has excellent all-round visibility and a large sight line towards the trench," he says. "This is very important during digging and pipe handling operations."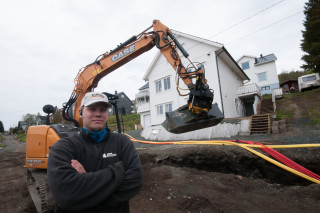 Behind these happy customers stands the local dealer Dagenborg Maskin, which has been Case equipment to the north Norwegian market since 1981. "The keys of our success are flexibility and passion," says managing director Håkon Dagenborg. "We are a small business and we all work very hard to satisfy our customers' needs under any condition. It is also extremely motivating to have the Case team very close to us whenever we need them."
It is not always easy, he says. "Quite often we are asked to work under very critical conditions. During winter, we can easily have up to two metres of snow in our region. Transport can be difficult and distances are a problem too, as Norway is a very long country. We cope with these obstacles with rapid and reliable transports and by providing fast after-sales services to our customers, supported by the efficient parts delivery from Case."