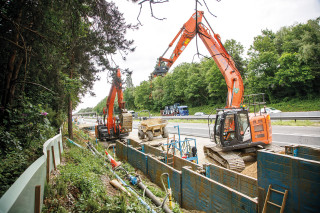 Eight ZX135US-5 and ZX225USLC-5 excavators owned by Skyland Drainage Contractors, and a further two ZX225USLC-5s owned by Davey Civils, have been employed on the subcontractors' drainage works.
Skyland Drainage Contractors is part of the M O'Brien Group, which has more than 150 mini, medium and large Zaxis excavators at its disposal.
"Operators love Hitachi excavators as they have spacious and comfortable cabs and are also easy and smooth to drive," says director Dan O'Brien. "The resale value of the machines after three or four years is also better than other brands."
Having previously hired Zaxis excavators, Kent-based Davey Civils has been a Hitachi customer for one year. Established in 2008, it has two other Hitachi excavators in its fleet in addition to the ZX225USLC-5s. These area ZX135US-5 and a ZX29U-3 mini excavator. "We decided to invest in our own fleet and chose Hitachi because we knew the machines could do the job we wanted them to do – they were tried and tested," says director William Blake.

The zero-tail swing of the two ZX225USLC-5 excavators is a particular advantage for drainage and pipeline projects. "They make it easier and safer to work in confined spaces such as the side of a busy motorway like the M3," he adds.
Both models were supplied with service contracts from Hitachi Construction Machinery (UK) (HCMUK) when they were delivered in January 2015. "Our machines are serviced at 500-hour intervals and it's reassuring to know they are using Hitachi genuine parts," says William Blake.
Skyland and Davey are ultimately working for Balfour Beatty, which was awarded a £129m contract in July 2014 to install cameras, sensors and variable speed limit technology, upgrading the M3 between junctions 2 and 4a to smart motorway status.