The Zaxis-5 excavator is fitted with a 1.3m3 bucket and a special clamp, which was used for lifting pipes weighing up to 10 tonnes. It also lifted manhole inspection chambers weighing 12,000 kilos. A multifunctional 2D control system showed the operator exactly where to lay the pipes.
"We invested in this excavator because of its lifting capacity," said owner Joris Roebben. "I've been impressedT by its smooth operation and swing motion, thanks to the TRIAS hydraulics. It is very responsive and easy to manoeuvre, and it's also a quiet machine, which makes it ideal for working in residential areas. Another advantage is that it has excellent fuel consumption for a 30-tonne excavator."
J Roebben has invested in several Hitachi machines since it was established 26 years ago by Joris's father, Jan. He bought the company's first Hitachi excavator 20 years ago. "The advantages of buying Hitachi machines are the service we receive from our dealer, Luyckx, the reliability and minimal downtime," adds Joris.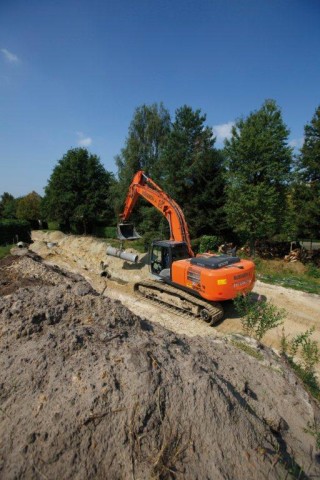 The latest addition to the J Roebben fleet is sometimes required to work 24 hours a day. In September 2012, the ZX290LC-5 was used on the housing development in Genk during the day and on a construction site 10km away during the night. This not only highlights its reliability, but also its versatility for different projects.
Having worked with several Hitachi models over the years, Joris is impressed by the latest generation. "The new Hitachi models are always faster than the previous generation," says Joris, "and the comfort levels are improved. Every time Hitachi brings out its latest range, we believe that this is the best machine yet, but then they do it again."