This latest model is the largest Hitachi dump truck and one of the most technologically advanced products of its kind. It features the Advanced Hitachi AC Drive System, which is the only one available on the market to be designed and built by the same manufacturer.The AC Drive System was developed using advanced propulsion technology, which delivers a new level of efficiency and greatly enhances productivity on any mining operation. The technology, which also powers Japan's bullet trains, outperforms previous and rival systems thanks to its simplicity, improved efficiency and greater reliability.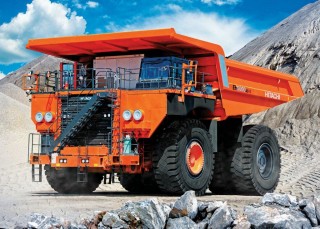 The new EH5000AC-3 features the third generation Hitachi Drive Control System. This incorporates such functionalities as slip control for traction (similar to active traction control) and slide control for grip (similar to an anti-lock brake system). The new model also has a pitching prevention feature for a smoother ride and control of bouncing when stopping, and a Slip Angle Control function for stable cornering on slippery road conditions.

The EH5000AC-3 has been designed with a Cummins QSKTTA60-CE diesel engine that meets EPA Tier 2 emission requirements. The truck also features an advanced braking system, which provides precise braking and quick system responses. A new Hitachi system monitor provides display information and diagnostics of all onboard systems and controls.
Greg Smith, HCME Manager for Heavy and Mining Equipment, says: "Since Hitachi began producing its own drive system four years ago with the launch of the EH3500ACII, it has resulted in the rapid development and enhancement of this technology. It is the only company in the industry that designs and manufactures all components of its drive control system."