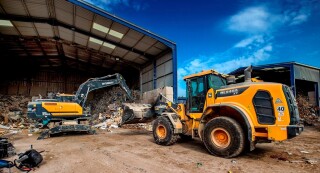 Lunnon Waste's newest machine is a 21-tonne Hyundai HW210A excavator, bought from local dealer Ernest Doe last year. And, so far, it 'excelling on every front', the company says.
It joins two Hyundai HX140A excavators with recycling grabs and an HL940AXT wheeled loader in the fleet at Lunnon Waste – which has specialised in commercial and domestic waste management since the early 1970s.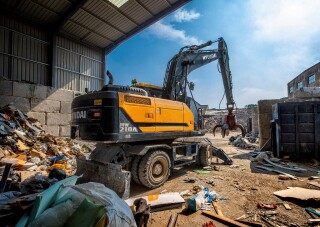 Managing director Michael Lunnon says: "We've been using Hyundai for a number of years now and with quite a few excavators and wheeled loaders in our fleet. All our waste management is done on site so the yard is always extremely busy – this means we need good, reliable and efficient machines that can work long days and work safely in smaller spaces.

"We've seen the evolution over time. With every generation, we see the changes and considerable progress Hyundai is making and the latest A series machine is truly exceptional on every front. But they have always been consistent where it matters – in performance – and that's why we choose Hyundai over any other brand on the market."
He adds: "The service and backup we receive from Ernest Doe has also been a huge factor in why we keep coming back to Hyundai – they have been faultless, always ready to help us wherever they can. The machines they've paired us with have always been sensibly priced and great in terms of reliability which is crucial for a busy operation like ours. The operators are very happy with the machines as well – they have all the comforts you expect from a new machine and the visibility in the cabin is excellent which gives the drivers peace of mind when working on a busy site.
"We've been impressed with the way Hyundai has developed over time and we will certainly be sticking with them for the future."