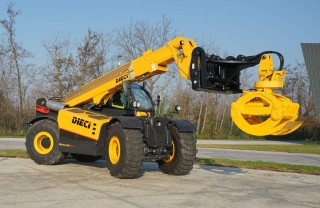 With series names like Apollo, Zeus, Samson and Hercules these are clearly machines meant for gods and heroes, although maybe one should beware the Icarus, since we all know what happened to him.
The Hercules is Dieci's heavy-duty series. New at Bauma will be the Hercules 190.10 (pictured above) which can lift a maximum of 19 tonnes and has a maximum lifting height of 10.2 metres. Possibly bigger than required for general construction site applications, this beast is aimed at quarries, mines, ports and oil industry installations.
The slightly smaller Hercules 120.10 (below), lifting 12 tonnes maximum and reaching up to 9.5 metres, will be alongside it. Both of these machines have the Dieci 'inching' pedal that allows the machine to travel at slow speed with the engine at full throttle alongside a 2-speed servo-controlled gearbox and hydrostatic transmission with variable displacement pump.
More likely to be used on building sites is the Apollo 25.6, which has a maximum capacity of 2,500 kg, a maximum lifting height of 5.78 metres, a total unladen weight of 4,800 kg and dimensions of 4100 x 1840 x 1985 mm. Powered by a Kubota engine, it has a top speed of 30 km/h, or early 19 mph.
Up a couple of sizes is Dieci's Icarus series and at Bauma will be the Icarus 40.17, which has a maximum capacity of 4,000 kg, a lifting height of 16.90 m and an empty weight of nearly 12.3 tonnes. This one reaches a top speed of 25 mph (40 km/h). The cab of the Icarus range is ROPS -FOPS approved and equipped with all safety devices, enhanced air conditioning and a digital tachometer.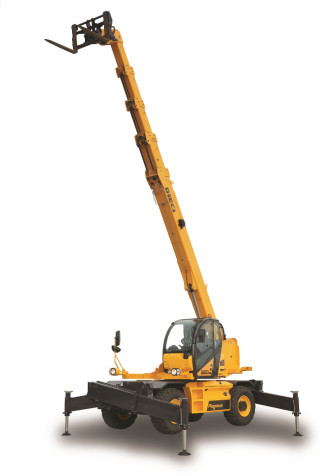 For some reason, Dieci adopts the name of the mythical flying horse Pegasus for its 360 degree rotating models. The newest member of this family is the Pegasus 45.30 (above), which sits right in the middle of the series, capacity-wise, but has massive reach. The lifting boom, with four proportional extensions, reaches a maximum height of 30 metres. This machine will be shown alongside a Pegasus 40.18/400.
Aside from the boom, new performance-boosting features of the Pegasus 45.30 include the 127 kW four-cylinder FPT Euro Stage IV after-cooler turbo engine coupled to an electronically-controlled hydrostatic transmission. The hydraulic and fuel tanks have been increased, allowing longer re-fuelling intervals.

An automatic levelling system on the outriggers keeps the machine level even when working on slopes. The automatic alignment of the wheels improves driving comfort during manoeuvring operations in confined environments, where repeated changes of the steering mode may be necessary (from two- to four-wheel steering wheel and vice versa).
Also on display will be the more prosaically named Pivot series, Dieci's wheeled loaders with articulating chassis for added manoeuvrability. The Pivot T80 model (above) will be on display, from the six-model family.
The T80 is powered by a 107 Kw FPT Stage IV engine with a diesel turbo intercooler with an electronically controlled, common rail injection cooling system, making it good to tow trailers of up to 15 tonnes.
Bauma 2016 takes place in Munich from 11 to 17 April. See www.bauma.de for details.