The true blue Kobelco brand certainly has a lot of loyal fans in the UK, with many machine owners and operators I have spoken to over the years hankering for a return to 100% Japanese built models that used to be such a familiar sight on construction jobs up and down the country not so long ago. It appears that their wishes are about to be fulfilled, with the recent announcement that as from January 1st 2013, Kobelco will once again be in a position to sell their blue-green coloured machines directly into the world markets that they had previously been excluded from under the old alliance. The company are now actively seeking new dealers in the aforementioned territories, who will market and sell the new machines, in what I foresee as a very exciting time for the Kobelco brand.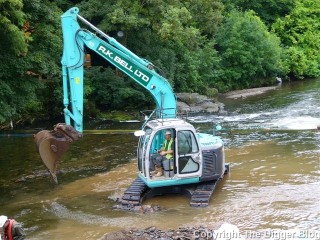 As part of its continued investment strategy Kobelco Construction Machinery Co Ltd, opened a brand new, state of the art factory in May 2012 at a new location in Hiroshima, Japan. The company says that this new factory is equipped with the best and latest production equipment in the world, offering improved production efficiency, and world class manufacturing quality.

In my current neck of the woods in the South West of England, Kobelco blue was not seen that often, but heading up towards Somerset and Bristol, there were a number of big customers who rated the popular Japanese machines, including M.J Church Plant, R.K Bell Ltd and the now defunct Blackhorse Civil Engineering. I have only spent a short period of time operating one during my career, which was an imported SK120 machine that was owned by well known one man band Phil Hill from Exeter. I was only on it for a few days but I have to say it was a cracking little machine, smooth and positive to operate, with all the power you would ever need on a 12 ton class machine. Phil's machine was fitted with the "helicopter" style cab, which even featured an electric front windscreen which was very impressive!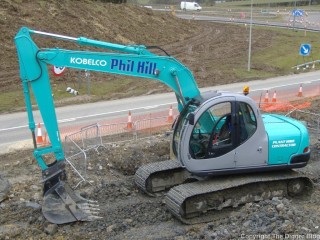 I am looking forward to the developments on Kobelco's return to these markets, and the big question on everyone's lips at the moment is, just what will New Holland do in the future with its tracked machine line up? Interesting times ahead I think.