There will also be a large selection of used machinery for sale, as usual, including ex demo machines, shop soiled equipment and some real bargains promised.
The 2015 Doe Show will be held on Tuesday 3rd, Wednesday 4th and Thursday 5th February at Ernest Doe & Sons in Ulting, Maldon Essex CM9 6QH. The show is billed as the largest construction, agricultural and groundcare dealer show in the UK. There will be more than 150 trade stands in all and more than 10,000 visitors are expected.
In the construction area there will be displays from Hyundai, New Holland Construction, Thwaites, Bomag and other manufacturers.
The groundcare division will have Ransomes Jacobsen machines and New Holland and Iseki tractors on display. Agricultural machinery stands include New Holland Agriculture, Manitou, Lemken, KRM, Shelbourne Reynolds, Great Plains, Lely, Marshall Trailers, Bomford and Maschio.
Hyundai tell us that they will have a dozen machines at the Doe Show, including new models from the Dash-9A series. Ernest Doe has been a Hyundai construction machinery dealer since the early 1990s.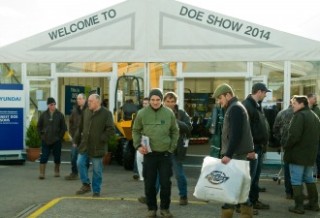 There will also be a demo plot where a range of Hyundai machines will be put through their paces.
Hyundai will have the R16-9 mini excavator, R25Z-9A zero swing excavator, R27Z-9 mini and the R35Z-9 mini. Also on display will be the R60CR-9 short tail swing mini, the R80CR-9 with short tail swing and with the addition of a tilting cabin. Larger machines on display include the R140LC-9A, the R145LCR-9A (pictured below) and the R180W-9A wheeled excavator and its crawler excavator equivalent. The R220LC-9A is also making an appearance as is the HL770-9a wheeled loader.