Mike Bullock and his work mates at SJH Groundwork's have been up to their old tricks again building a new snowman in the field next to their unit in Kington, Herefordshire.
You may recall that last year they used one of their JCB 8080 8 ton midi excavators to assist the 530 telehandler in the operation, this year however the 8 tonner was out on a job, but luckily another contractor who also operates out of the same yard, M.S. Shaw groundwork's had one of their JS130's in the yard to assist this year.
Mike took to the controls of the JS130 and his boss Steve Holder jumped into the Loadall and between the pair of them they made light work of the 8 inches of snow.
Mike commented that this year it was "a different type of snow" which was kind of powdery and would not compact as well as last years, they worked at it and kept building it up one snowy afternoon last week and eventually got some decent height to it.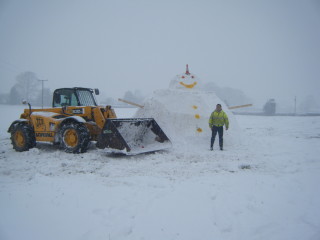 "Although not as perfectly sculptured as last year's effort, it was still a bit of fun" said Mike, "especially as the groundwork's side of things has come to a grinding halt until this snow goes away!"
All very festive... now where is that Aled Jones CD