G.A. Carlyon of Mount Hawke nr Truro, were recently hired in by Cornwall Paving and Landscape Company, to clear one of their customers gardens which had been left in a mess following some building work. Most of the major worked was completed using Stuarts 18 ton Hitachi Zaxis 180LC, but in one particular area a JCB micro had to be lifted on to a higher plateau which was not big enough to take the Hitachi.
This upper level was required to be levelled and soiled using screened topsoil which was supplied by G.A Carlyon, the micro, which weighs in at around 1110kgs was easily lifted by the Hitachi, bearing in mind that Stuart's big bulking bucket weighs more than the Acland Plant supplied JCB Micro!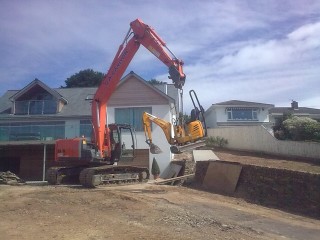 These incredibly small but powerful micro machines are certainly useful in hard to access areas and can save a lot of back breaking shovel work.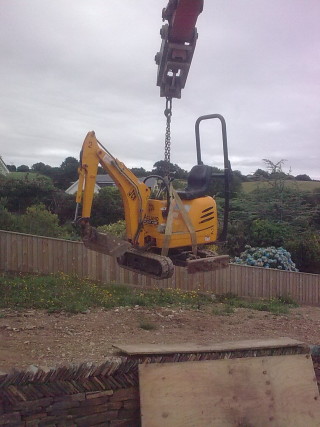 The rest of the job involved profiling and topsoiling the rest of the garden area and also digging out the existing old drive and replacing with hardcore so that The Cornwall Paving and Landscape Company team could block pave the new driveway.
And when it was time to go home, the baby JCB was tucked away under the arm of the big Hitachi for the night!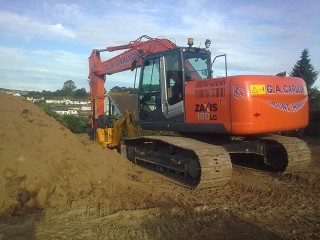 A good job done and an interesting challenge too, which always makes any job more satisfying.