Many of these photos have done the rounds on the internet from my days as a forum regular, and some of them made it into an article I wrote for Classic Plant & Machinery magazine. As the dark winter evenings start to draw in, I feel it's worth a look back to bring some much needed sunshine to the pages of the Digger Blog, and I am sure many of my readers will not have seen them. I first witnessed this road construction project which ran from the airport in Puerto Del Rosario to Jandia, in December 2003, when my partner and I decided to get away from the dismal English weather, the constant barrage of Christmas adverts on television, and the general commercialisation of Christmas in the UK that drives me crazy. During this Xmas break, I got out and took a few shots of kit, including this Caterpillar D10N, which I found taking a well deserved siesta from ripping rock one afternoon.
Having bypassed Christmas back home, our break came to an end and we were soon heading home to reality, on the promise that we would return the following July for a longer two week stay, enabling me to get a more detailed look at the jobsite too. When we returned to the island in 2004, the job was well underway and after a few days of chilling out, I ventured off alone to get some snaps and to try to find out more about the job. Not far from the hotel I came across this old Cat 963 tracked loading shovel, which was busy levelling material which had been transported from the main cut by road going trucks.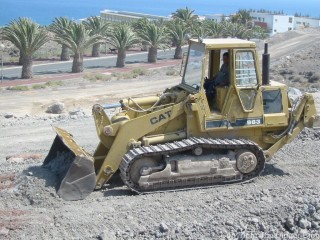 The track shovel was also being assisted by an old Caterpillar 12E motor grader, seen here with the beautiful palm trees and sea in the background, and not a Hi-Viz jacket or barriers in sight!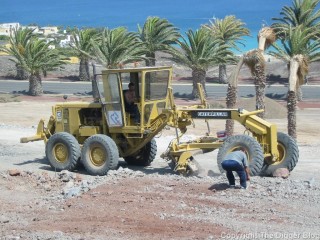 The old single carrigeway road had become very poor in recent years, and parts of it had become notorious accident black spots, due to a series of nasty bends, as such the new road would become a dual carriageway with all the bends taken out. This work involved a number of cuts through hillsides and the building of flyovers. Like much of the Canary Islands, Fuerteventura used to be volcanic and as such there is a lot of hard rock to contend with. In the cut where I had witnessed the D10N during our last visit, I saw a Komatsu PC450-6 owned by the main groundworks contractor Cororasa, loading road going tippers which would take the material to the earlier mentioned machines.
The same machine was loading larger rocks onto a Caterpillar 771D rigid dumptruck, this material was taken to another area where Cororasa had a crushing plant in operation. The rock, once crushed would be re-used as a type 1 style material during other parts of the construction process.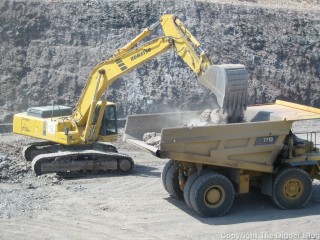 One of the oldest bits of kit on site, was this 1970's vintage Caterpillar 966C wheeled loader, which was busy in the cut cleaning up any additional debris that had been missed by the excavators.
The largest excavator on site was this Caterpillar 375LME, this machine which is fitted with a 428hp Cat 3406 engine was cutting down an embankment not far from our hotel. I have seen this machine on a number of occasions in the Jandia area. I wonder if it will still be there this year.
The working environment for both men and machines is harsh in Fuerteventura. With year round temperatures of 25o-30oC, coupled with the dust and extreme digging conditions they encounter, I am sure Cororasa's maintenance team were kept extremely busy.
Needless to say I will be on the lookout for the odd item of kit, when I visit again in December, and if I spot anything I will share it with you here on Digger.