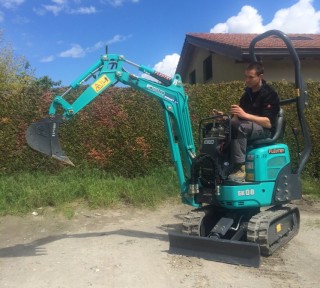 The Kobelco SK08 is a super-compact mini excavator with an operating weight of just 1,035kg. Target applications are back garden jobs, allotments, or anywhere where there's no room to swing a cat. Kobelco is also punting it as an assist machine for working from the inside alongside larger diggers on demolition jobs.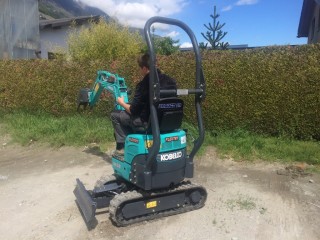 "The new SK08 is Kobelco's smallest mini excavator and its arrival opens up a whole new market for us, sayd KCME product marketing manager Peter Stuijt.
"Europe's infrastructure is developing rapidly and, as a consequence, the demand for small yet high performance excavators has also increased over the past 12 months. This machine is therefore ideally placed for Europe's busy construction sector, including residential areas where there are space restrictions."

The Yanmar 2TE67L-BV3 engine has a rated power output of 7.7 kW / 2,400 min-1 and bucket capacity is 0.022 m3, which is 22 litres by my reckoning.
I could tell you more but the basics are all in the infographic below.